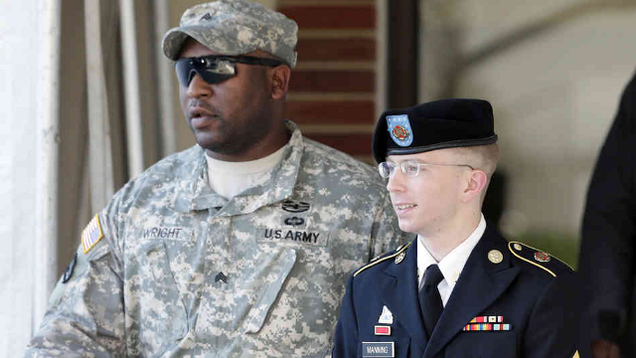 Wikileaks source Bradly Manning has been found guilty of five counts of espionage, but he managed to avoid the most serious charge, that of aiding the enemy. Combined, the charges could add up to 154 years imprisonment — a sentence that will be determined tomorrow.
The 25-year old former intelligence analyst was working in Iraq when he sent a cache of secret diplomatic cables and classified military reports to the WikiLeaks website. He has since admitted to giving the site around 700,00 documents, and has plead guilty to 10 lesser charges, including espionage and computer fraud.
Despite those admissions, Manning has denied that he knowingly helped enemies of the United States, including Osama bin Laden and Al-Qaeda.
A recent tweet from WikiLeaks makes its position clear.
Manning faces 136 years on the charges he has been convicted of today. Dangerous national security extremism from the Obama administration.

— WikiLeaks (@wikileaks) July 30, 2013
Basic guide to honnest reportage. Manning has not been found 'guilty', but he has been 'convicted' of supplying information to the press.

— WikiLeaks (@wikileaks) July 30, 2013
Bradley Manning's convictions today include 5 courts of espionage. A very serious new precedent for supplying information the press.

— WikiLeaks (@wikileaks) July 30, 2013
Blogger and journalist Xeni Jardin is at Fort Meade where the verdict was handed down:
Before verdict read, Manning sat at the defense table a few yards from us press, seated in seats normally for jury. He spoke to Coombs.

— Xeni Jardin (@xeni) July 30, 2013
Manning's lips were drawn tight, jaw tense. He drank water from bottle, then folded hands tightly across chest as we awaited judge entrance.

— Xeni Jardin (@xeni) July 30, 2013
Maximum sentences on other charges for which Manning found guilty add up to more than 100 yrs in prison. Sentencing begins tmrw 930am.

— Xeni Jardin (@xeni) July 30, 2013
As verdict read, Manning sat attentively, eyes on judge. Focused, alert. Resigned. Faint smile flashed at not guilty on "aiding enemy."

— Xeni Jardin (@xeni) July 30, 2013
Notable: No outbursts in courtroom after verdict read, or after court recessed. Manning supporters left quietly. We 8 press escorted out.

— Xeni Jardin (@xeni) July 30, 2013
The Globe and Mail reports on the trial:
In closing arguments, defense attorney David Coombs said Manning was no traitor but a "young, naive and good-intentioned" citizen who wanted to encourage public debate about US foreign policy.

In a preliminary hearing in February, Manning read a long letter justifying his actions, in which he spoke of the "bloodlust" exhibited by a US Apache helicopter crew who gunned down a group of Iraqis in Baghdad.

But the prosecution insisted Manning recklessly betrayed his uniform and his country by leaking documents he knew Al-Qaeda would see and use.

"He was not a troubled young soul, he was a determined soldier with the knowledge, ability and desire to harm the United States in its war effort," lead prosecutor Major Ashden Fein told the court.
Image: the AFP.