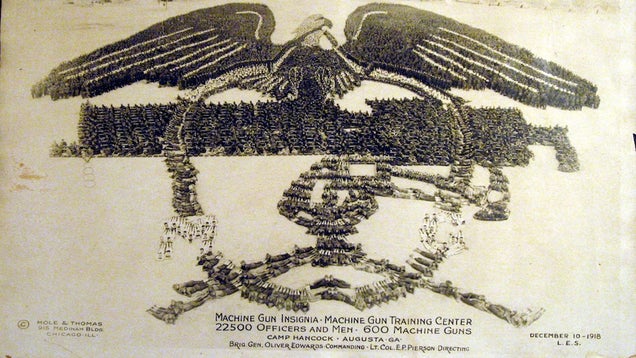 S
In the early twentieth century, photographers fell in love with "mass photographs," or pictures where thousands of people create one unified image. Often, at this time in history, the themes were patriotic and the participants were soldiers. Here are some of the most astounding.
Mole & Thomas: Machine Gun Insignia –Machine Gun Training Center, December 1918
22,500 people and 600 machine guns, Camp Hancock, Augusta, Georgia – pictured above. Because there's nothing more American than tens of thousands of people posing with guns.
Mole & Thomas: U.S. Naval Rifle Range, Camp Logan, Houston, Texas, c. 1917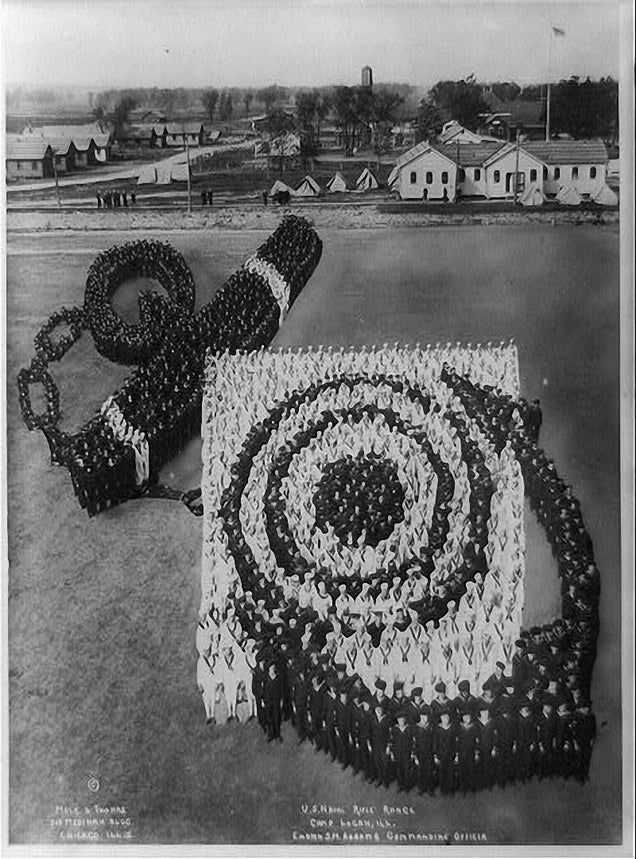 S
Mole & Thomas: Living Service Flag, during WWI
10,000 men of the 164th Depot Brigade at Camp Funston, near Fort Riley, Kansas.
Cactus Division, WWI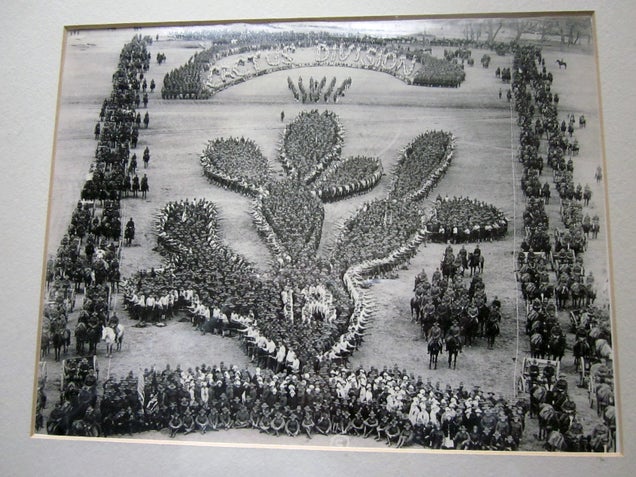 S
Mayhart Studio: Chicago Living Flag, 1917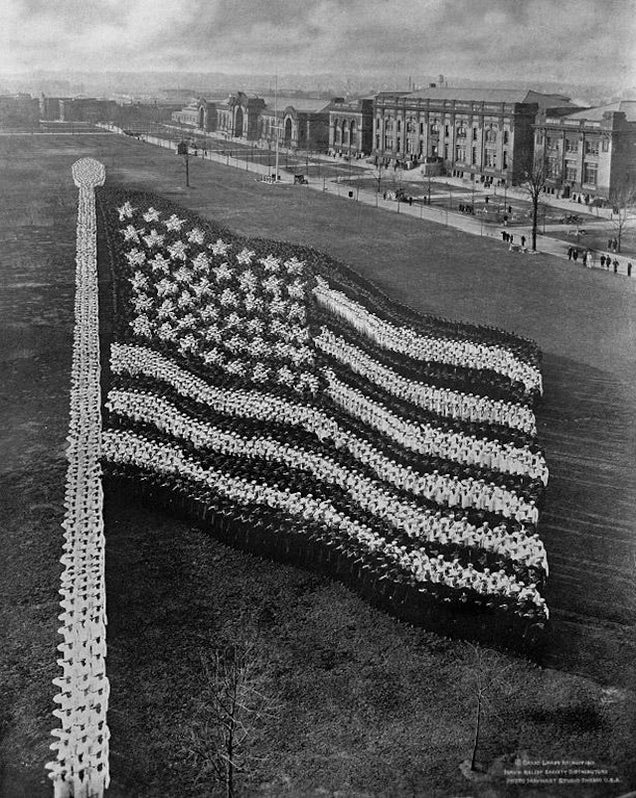 Mole & Thomas: Human Statue of Liberty, c. 1918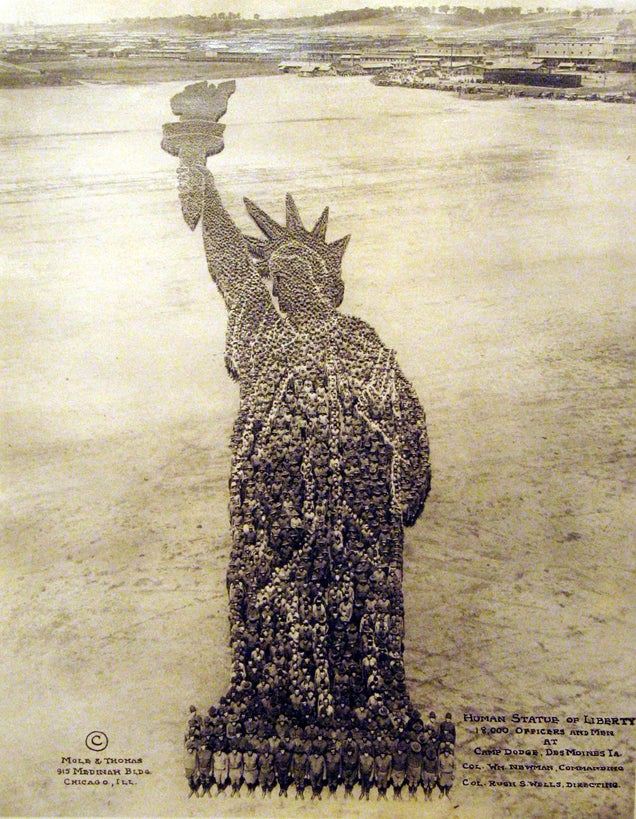 S
18,000 people at Camp Dodge, Des Moines, Indiana.
Mole & Thomas: Living Portrait Of Woodrow Wilson, 1918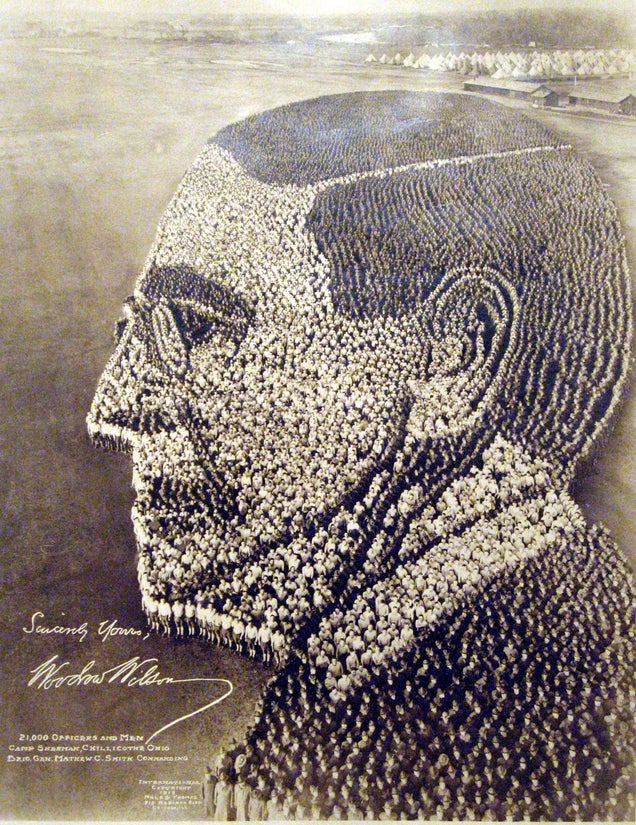 S
21,000 officers and men, Camp Sherman, Chillicothe, Ohio
Newman Photo: Animated Crest 34th Division, 1918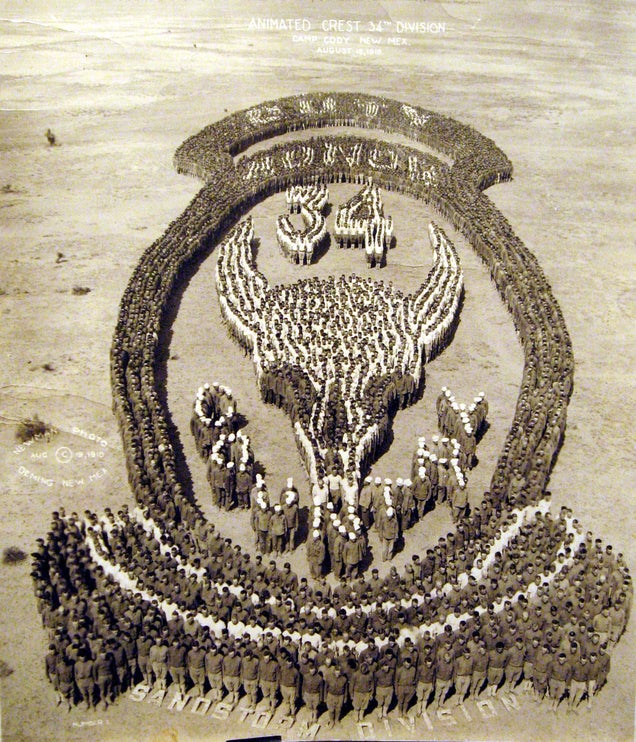 S
Camp Cody, New Mexico, 1918
E.H. Morrison: Official Seal of the Eleventh Division, c. 1918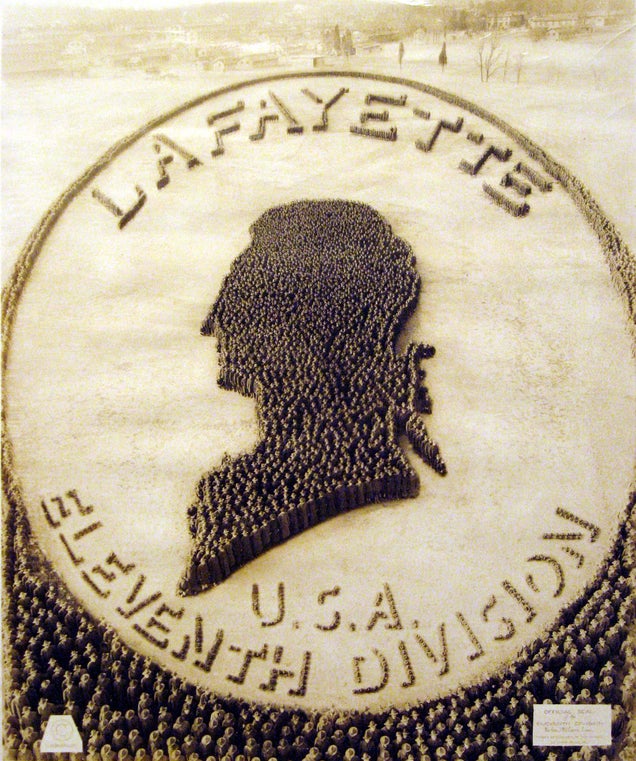 S
Mole & Thomas: The Human Liberty Bell, 1918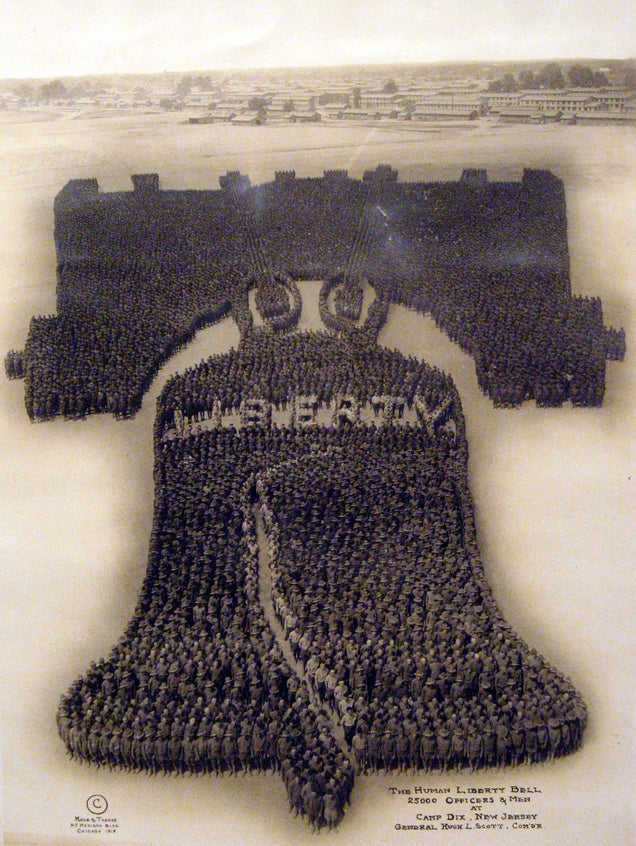 S
25,000 people at Camp Dix, New Jersey
Mole & Thomas: The Human American Eagle, 1918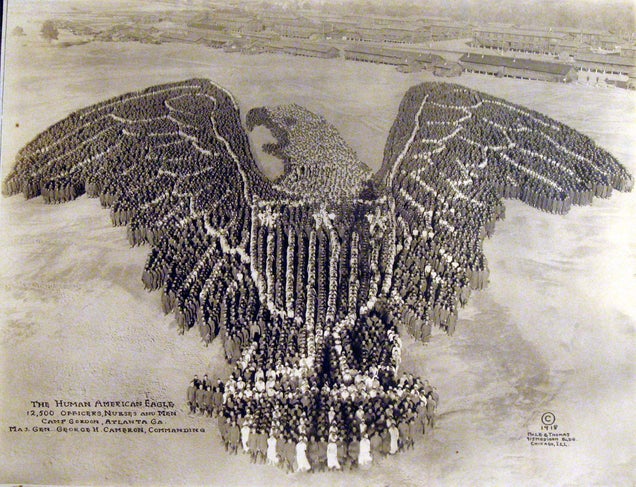 S
12,500 officers, nurses and man at Camp Gordon, Atlanta, Georgia.
Arthur Mole - John D. Thomas: The Living Uncle Sam, January 1919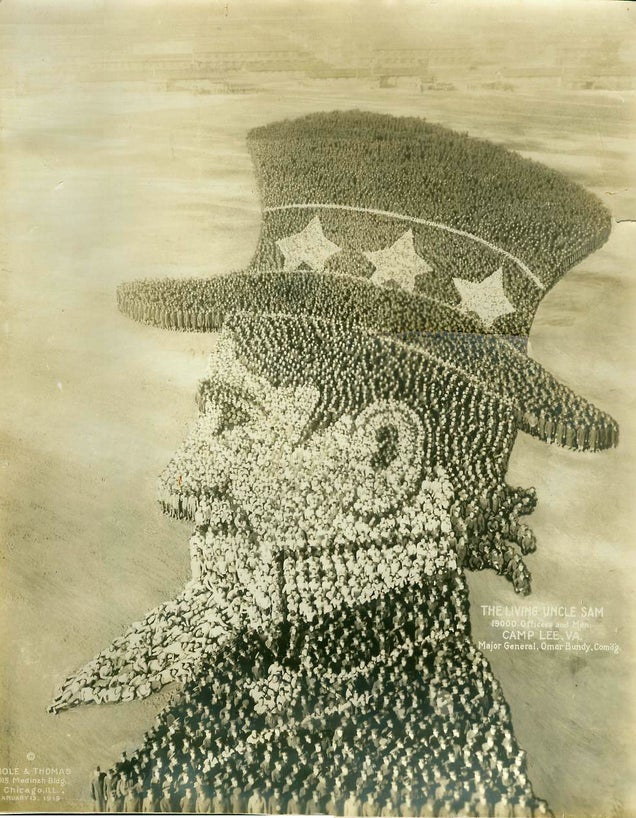 S
19,000 officers and men at Camp Lee, Virginia.
Mole & Thomas: Living Emblem of the United States Marines, 1919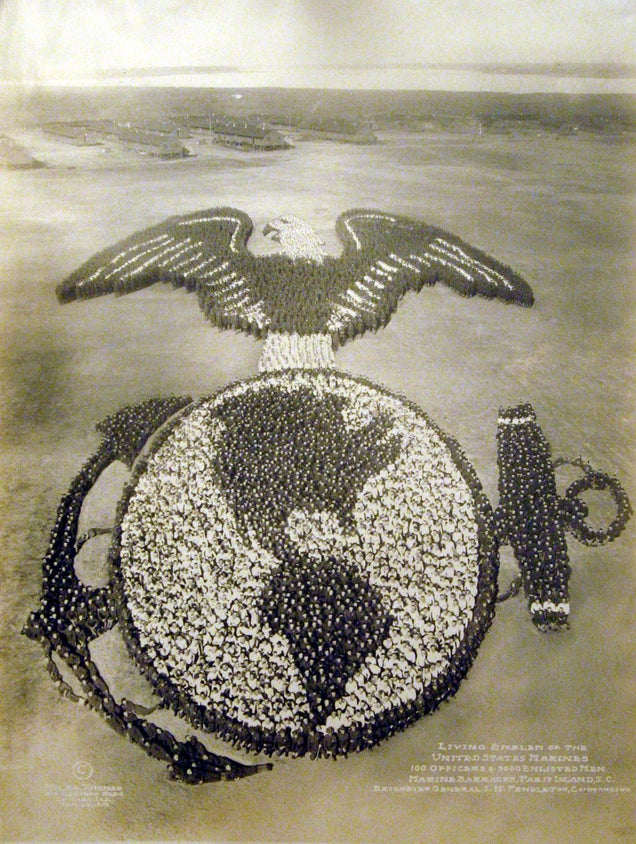 S
100 officers and 9000 enlisted men, near Marine Barracks, Paris Island, South Carolina
Unknown: First Field Artillery Brigade, First Division,1919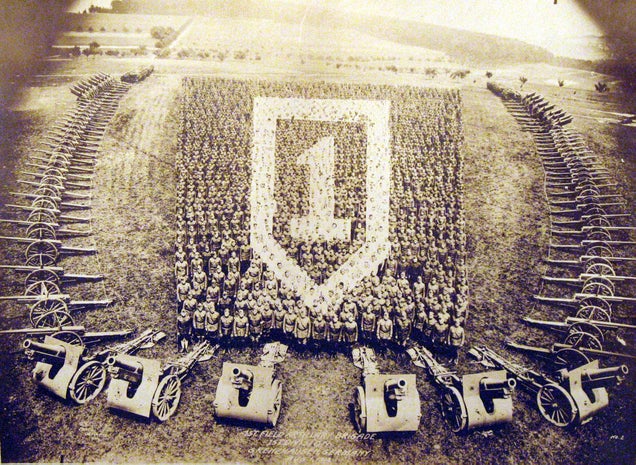 S
Grenzhausen,Germany
Unknown: 209th Engineers, Camp Sheridan, Alabama, 1919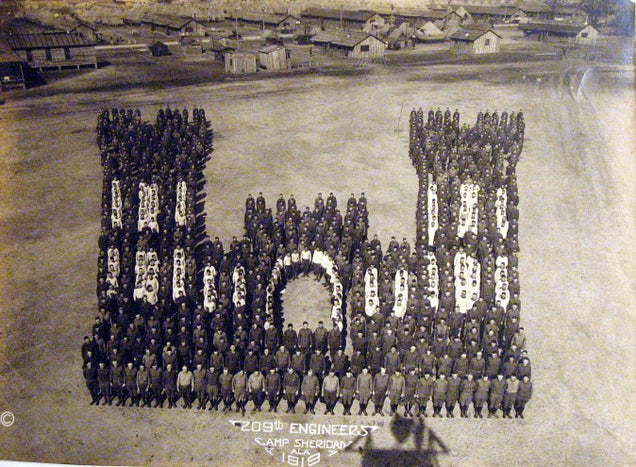 S
Photo Emblem Co.: A Panther Formed by the Faculty and Students of University of Pittsburgh, April 1920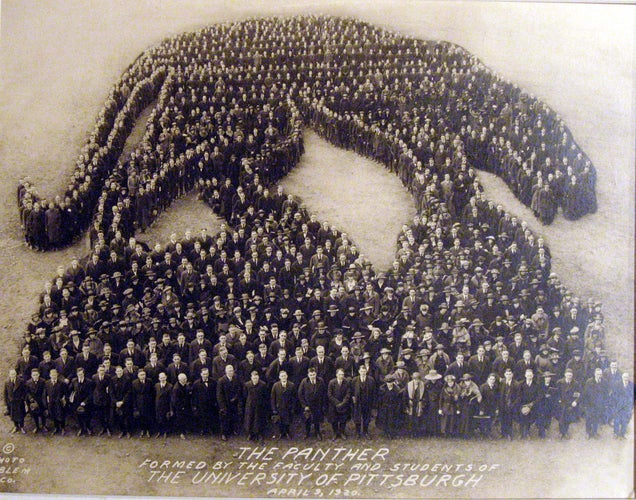 S
Arthur Mole: The Zion Shield, 1920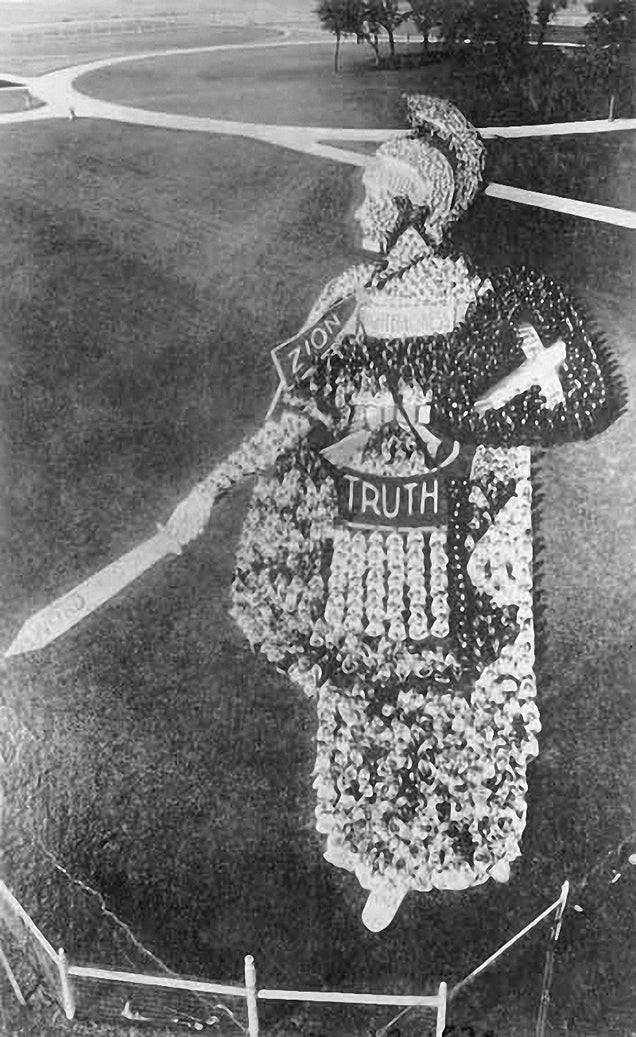 S
Unknown: Entire Personnel 1st Division Formed As Living Insignia, April 1940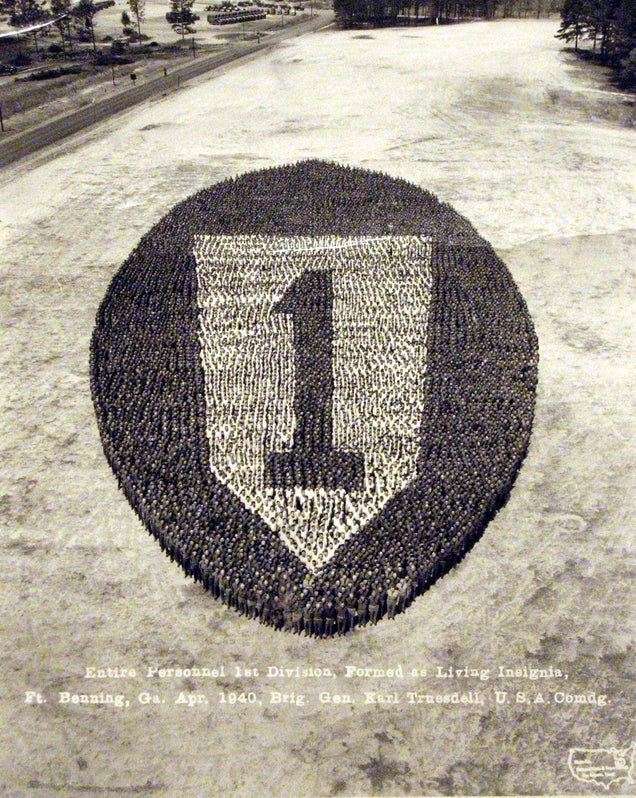 S
Fort Benning, Georgia
Eugene Omar Goldbeck: Indoctrination Division, Air Training Command (Lackland Air Base, San Antonio, Texas, July 1947)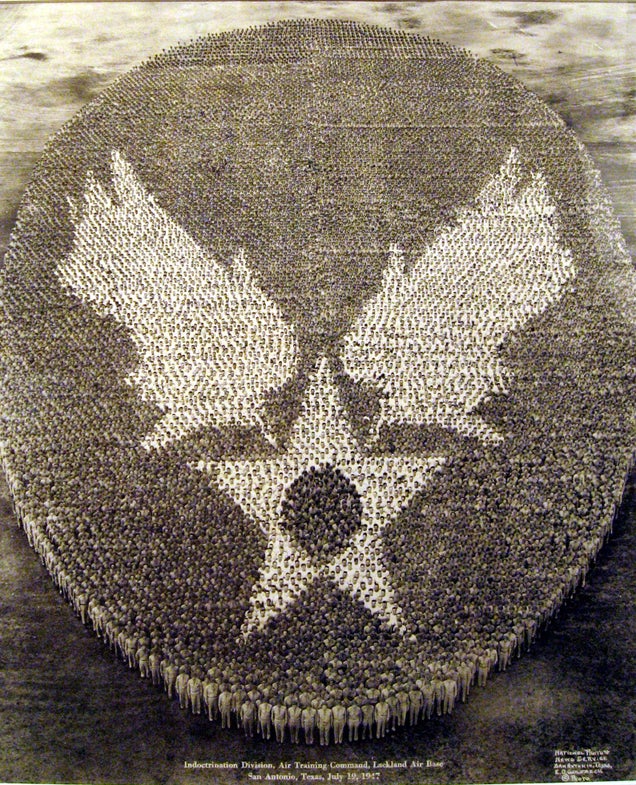 S
Sailors of the USS George Washington form the phrase "Hajimemashite" ("Nice to meet you" in Japanese), Yokosuka, Japan, 2008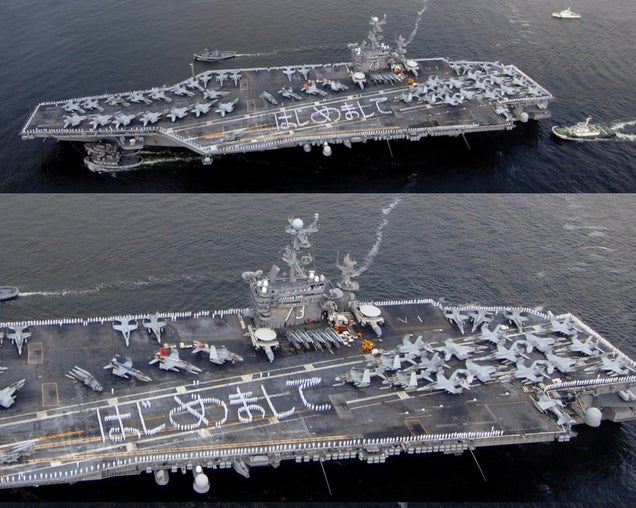 S
Insignia of 2nd Infantry Division, 1925, recreated in 2009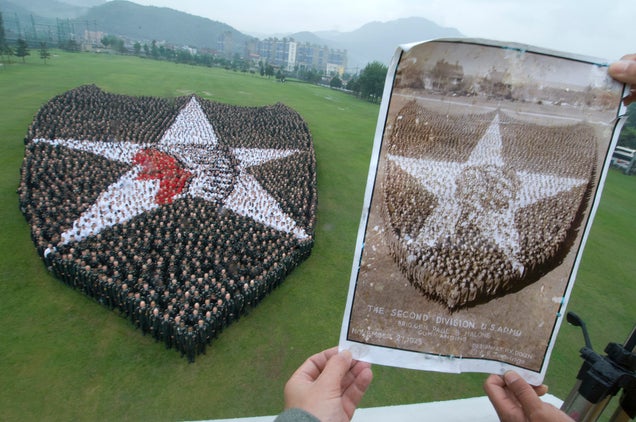 S
The 2009 picture was taken at Camp Casey, South Korea.
(via Carl Hammer Gallery, US Militaria Forum, cabinetmagazine, 2photo, Ruguru/Livejournal, Letters from Shenanigan Valley Idaho, stripes, U.S. Army Korea and Wikimedia Commons)