These might not be the most extreme buildings ever, but they could certainly make giants hungry and thirsty. These are some of the most bizarre food- and drink-shaped structures you'll ever see.
The 53 ft (16.1 m) tall Pineapple pavilion in Dunmore, Scotland, built in 1761 by John Murray, 4th Earl of Dunmore as a birthday present for his wife. The pineapple was constructed after Murray's return from America in 1776.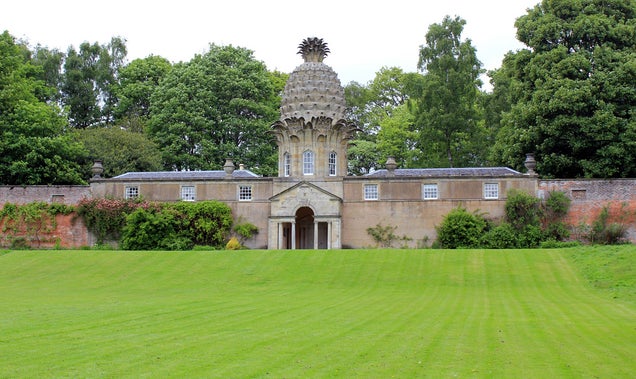 S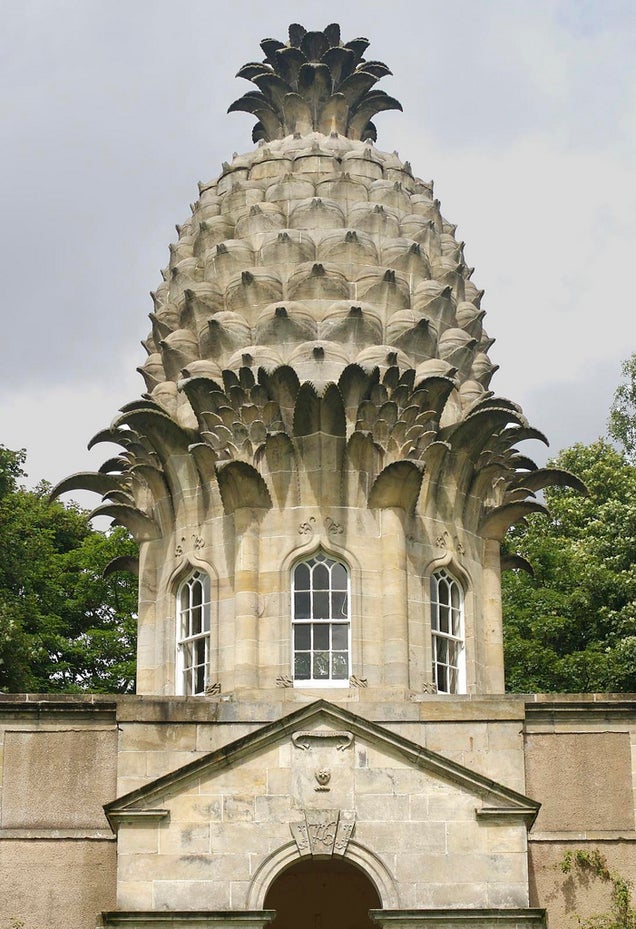 S
(via Barbara Agnew and Tom Parnell)
The Big Oyster in Taree, New South Wales, Australia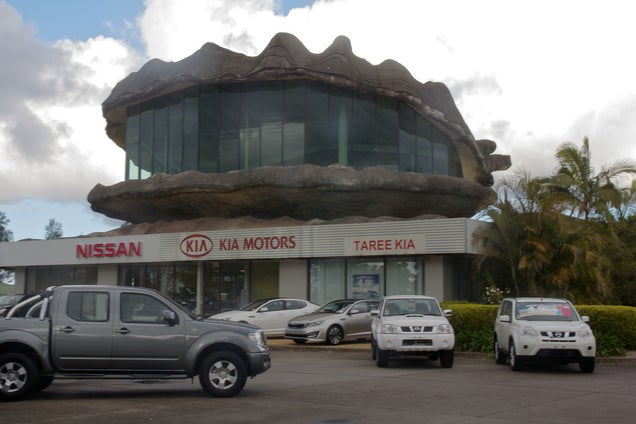 S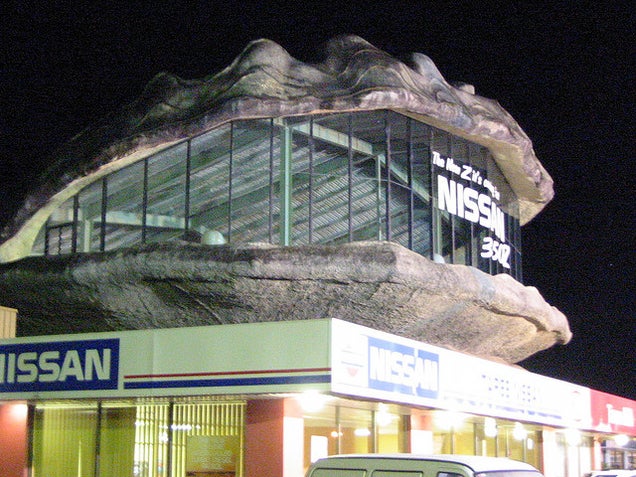 It was a restaurant and souvenir shop for decades, but now it's a car dealership.
(via Brian Yap and Kate Andrews)
The Sanrio Strawberry House in Tokyo, Japan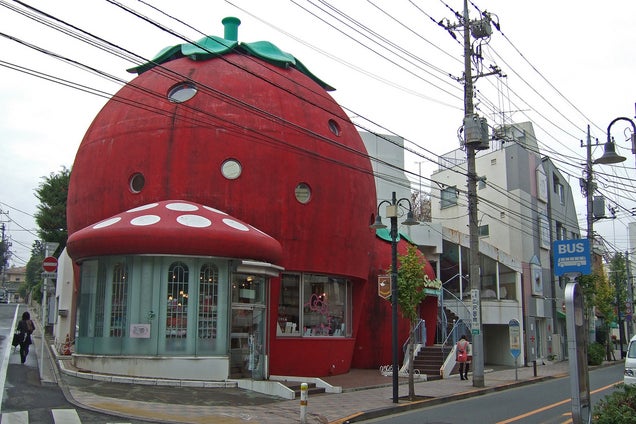 S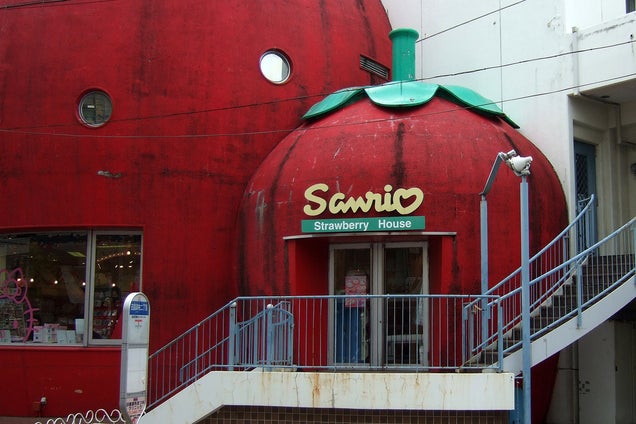 S
(via Valeri-DBF)
The 40 ft (12 m) tall Hood Milk Bottle Building in Boston, Massachusetts, built in 1933 by Arthur Ganger, and used as an ice cream parlor on Route 44 in Taunton, Mass. until 1967. It was abandoned for then years, but in 1977 was cut into three pieces, moved to Boston, renovated and it stands in front of Boston Children's Museum since then.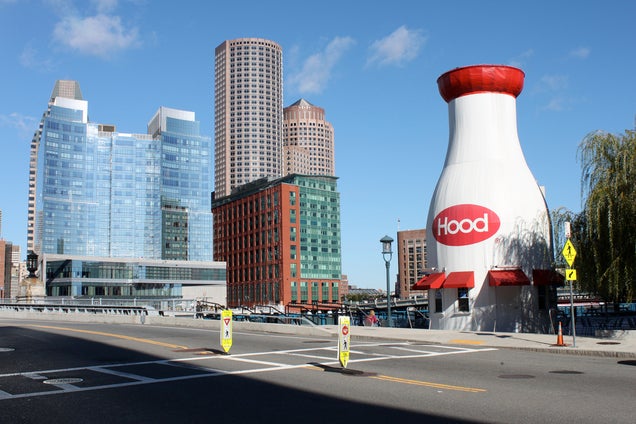 S
If it were a real milk bottle, it would hold 58,620 gallons (221,900 l) of milk.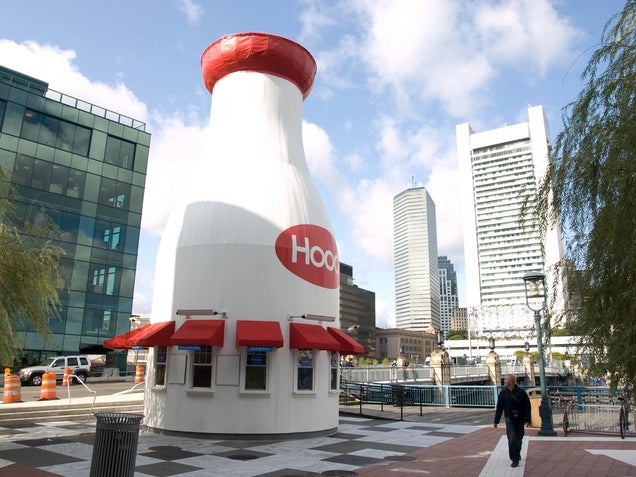 S
(via Joseph A and Leonid Khachaturov)
A Peach-shaped kiosk in Rotary Park on Okanagan Lake, Penticton, British Columbia, Canada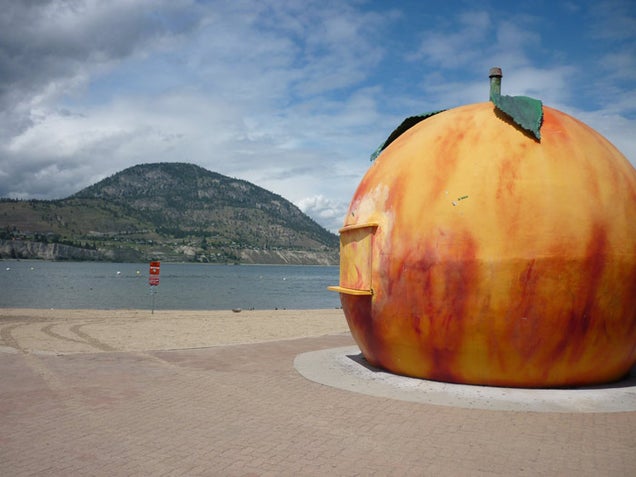 S
(via Penticton)
The world's biggest apple, the 35 ft (10.7 m) high Big Apple, a bakery and restaurant in Colborne, Ontario, Canada.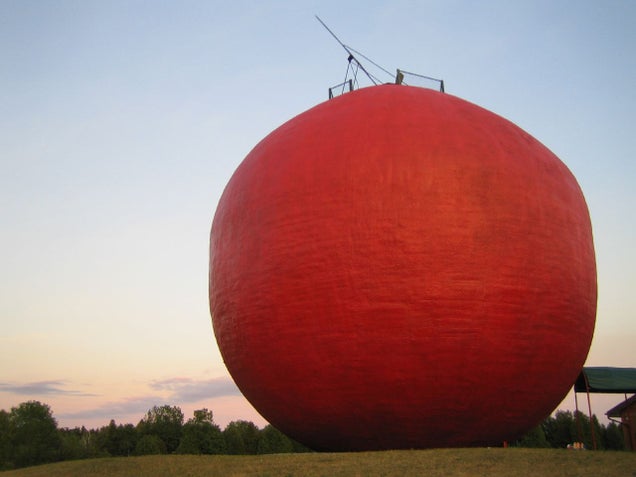 S
And it has an observation deck on the top!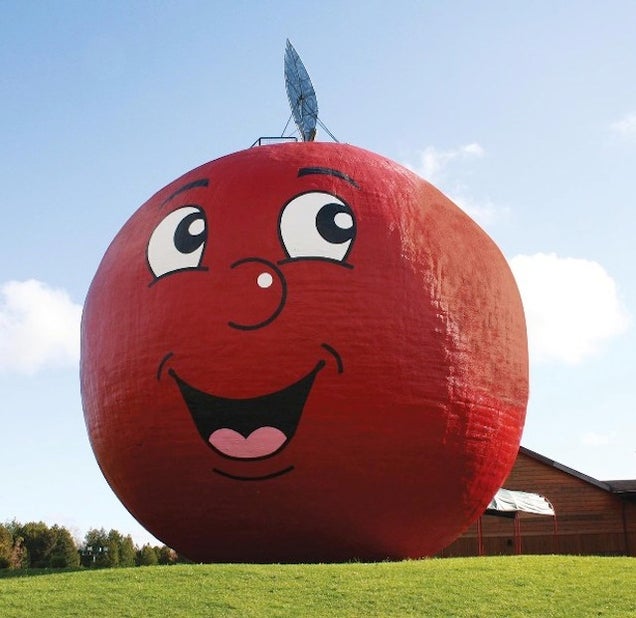 (via Gillian and The Big Apple)
The 52 ft (16 m) tall Big Pineapple on the Sunshine Coast, South East Queensland, Australia, opened in 1971.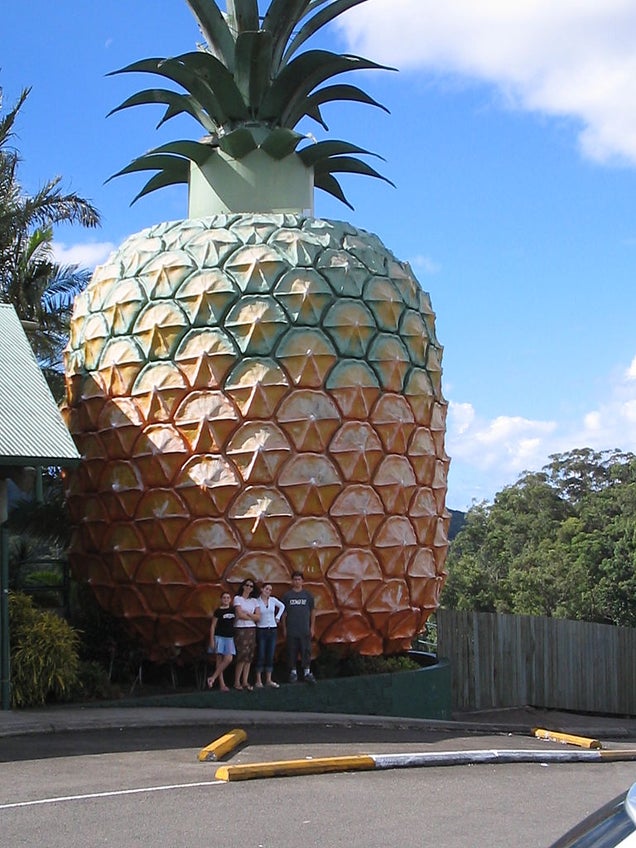 S
(via Wikimedia Commons)
Twistee Treat ice cream parlors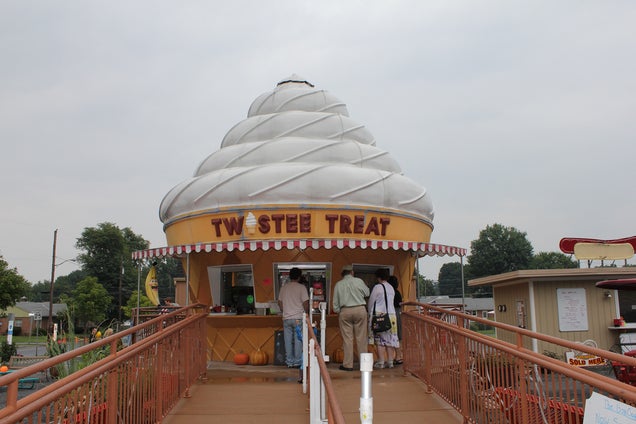 S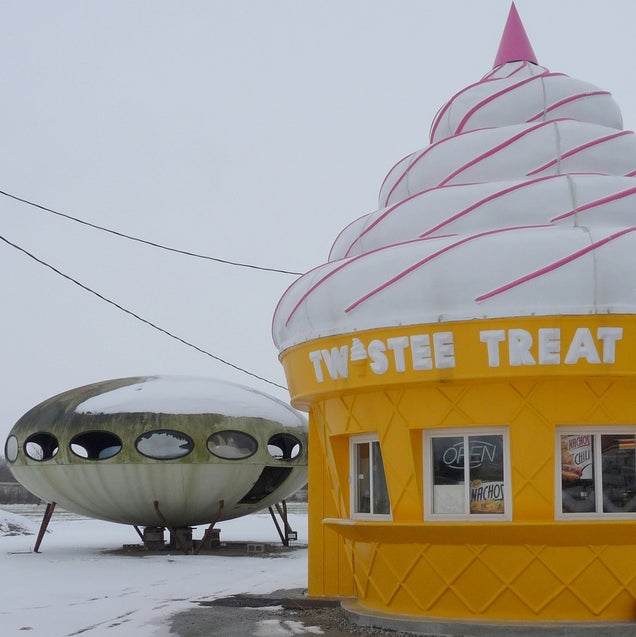 S
(via Urban Sea Star and Ann Fisher)
The three stories high Gibeau Orange Julep restaurant (also known as The Big Orange or OJ) in Montreal, Quebec, Canada. The original concrete sphere was built in 1945 by Hermas Gibeau to advertise his orange drink named GIbeau Orange Julep. The sphere was widened in 1966.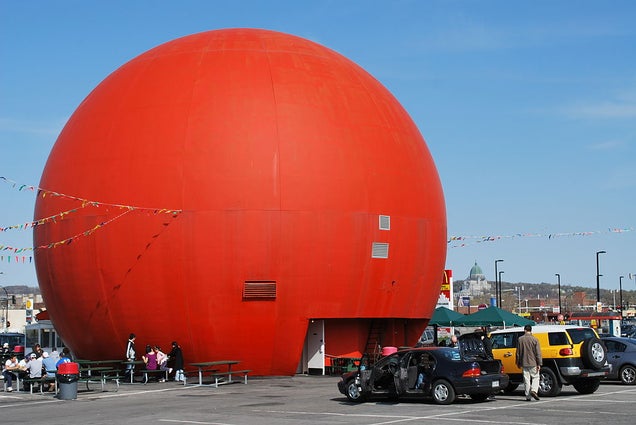 S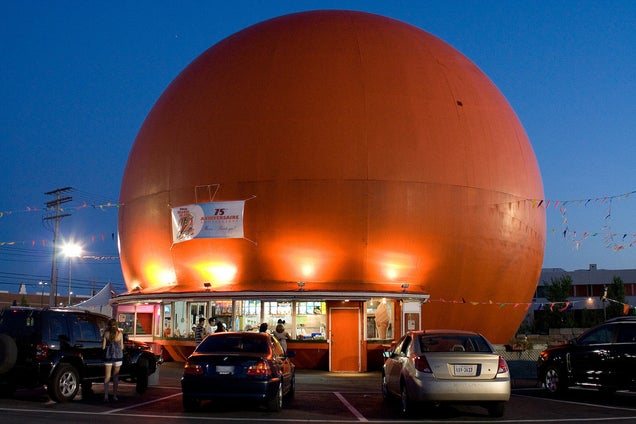 S
The World's Largest Six-Pack, a set of metal tanks in LaCrosse, Wisconsin, designed by Roy Wilson for the G.Heileman Brewing Company in 1969.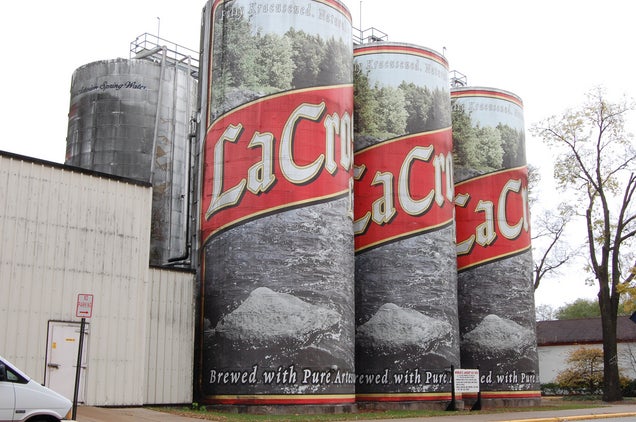 S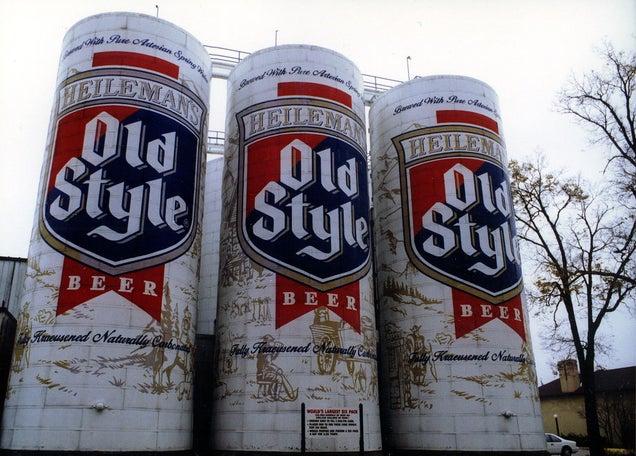 S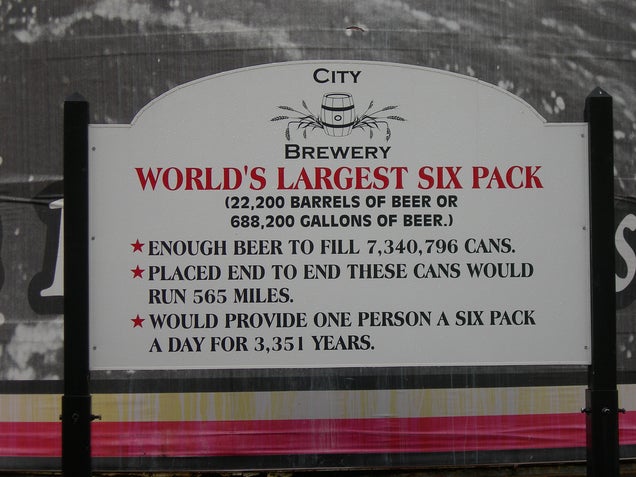 S
(via Jimmy Emerson, Rob and Brian Moen)
The National Fisheries Development Board Building in Hyderabad, India, opened in 2012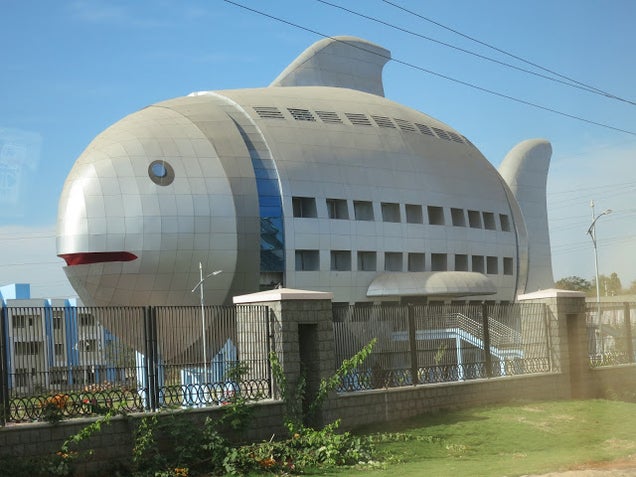 (via ccindia2012)
The 54.8 ft (16.7 m) tall Big Pineapple near Summerhill Farm, Bathurst, South Africa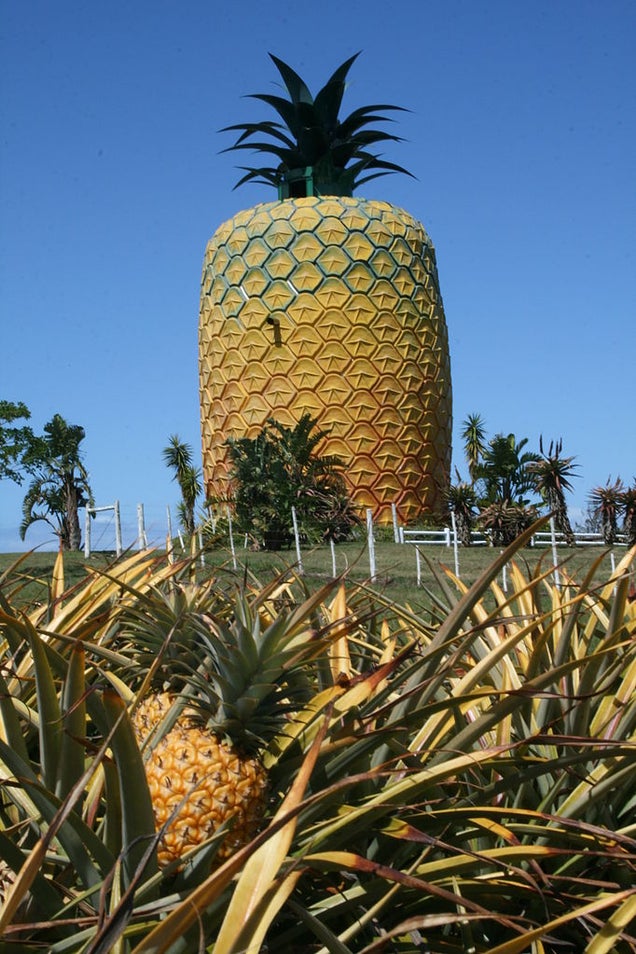 S
(via NJR ZA)
Coffee Pot & Teapot buildings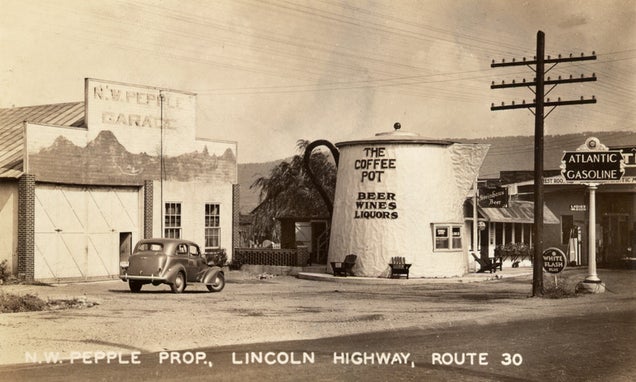 S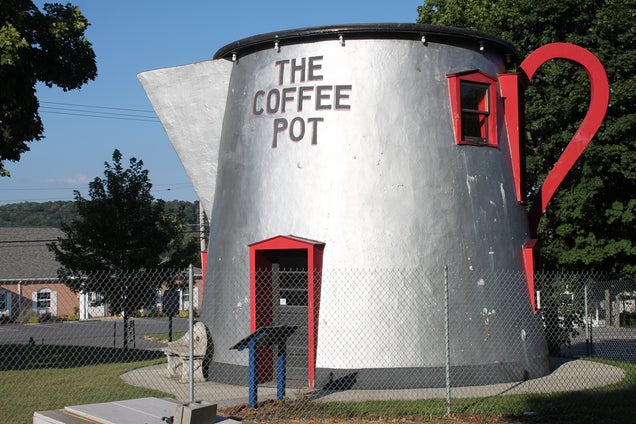 S
Bedford, Pennsylvania, built in 1927 by David Koontz.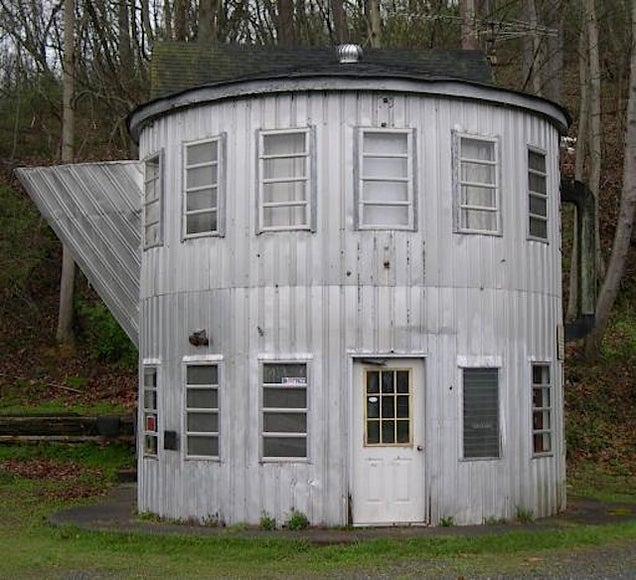 A two-story coffee pot in Lexington, Virginia, built by Kenneth Wills in the late 1950s.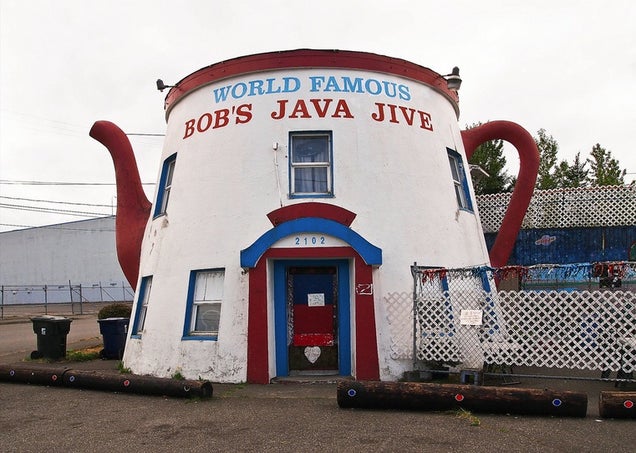 S
Bob's Java Jive in Tacoma, Washington, built in 1927 as the Coffee Pot Restaurant by Otis G. Button, designed by Bert Smyser.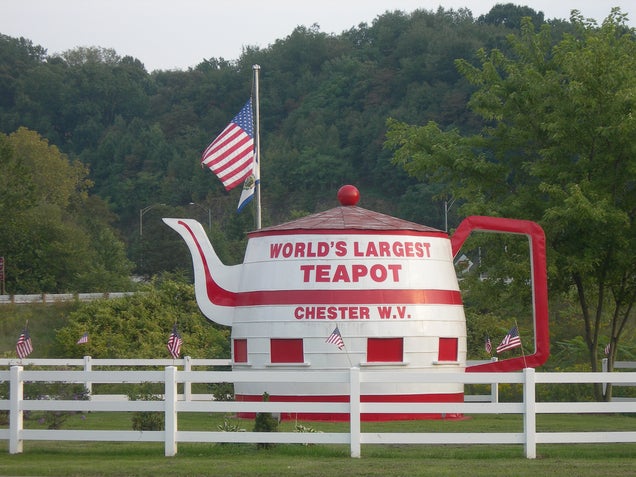 S
The 14 ft (4.3 m) high Chester teapot, converted from a Hires Root Beer sign in the shape of a barrel and moved to Chester, West Virginia in 1938.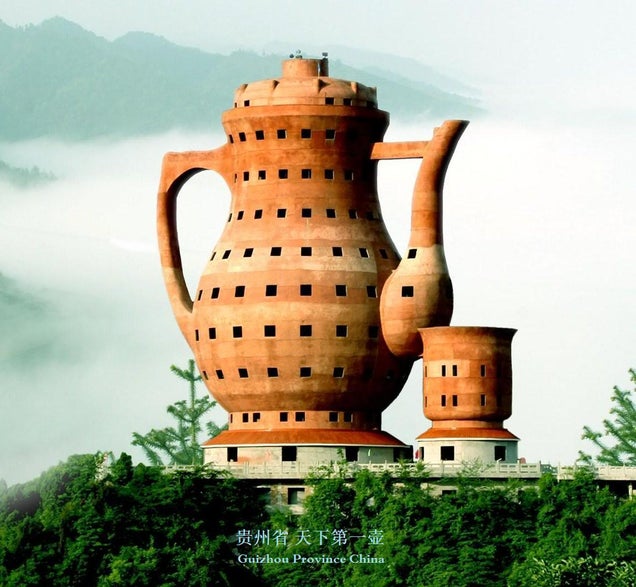 S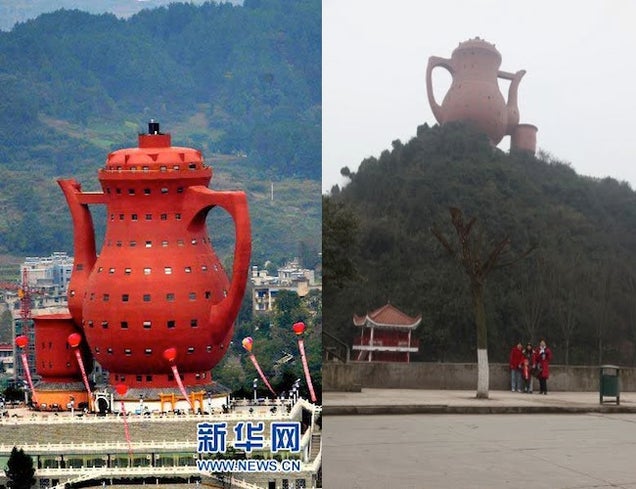 S
The world's largest teapot, the 242.8 ft (74 m) high Meitan Tea Museum in Meitan, China.
(via Brian Butko, Joseph A, Fuzzytravel, Jimmy Emerson, John Gateley, homedit, dramafever and Photobucket)
The Wuliangye (Five Grains Liquid) Building in Yibin, Sichuan, China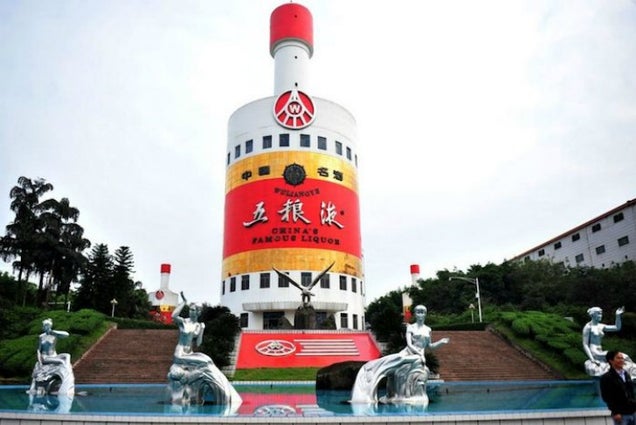 S
The Wuliangye is a famous Chinese alcoholic drink that is commonly used for government banquets, according to Asiasociety.
(via Asiasociety)
The Fish Building of Iran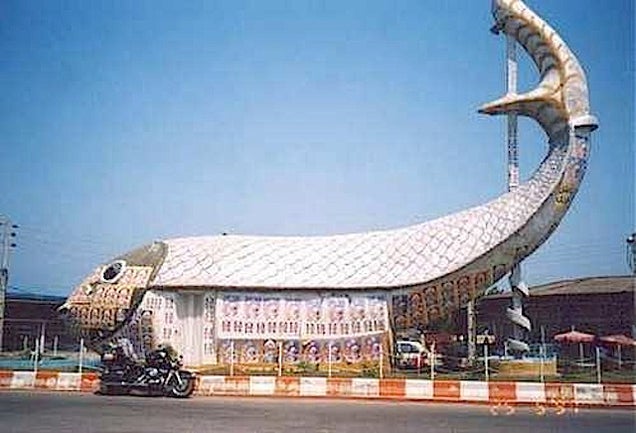 (via Design Drizzle)
Fruit-shaped Bus Stations in Japan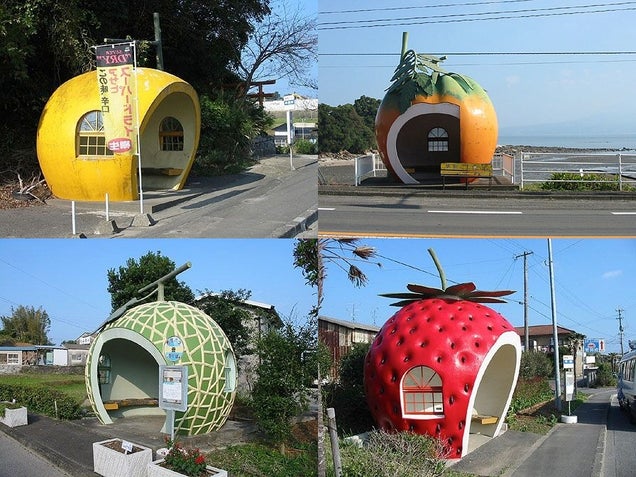 S
(via Art Style Online)
The Burger that Ate LA, Los Angeles, California, 1991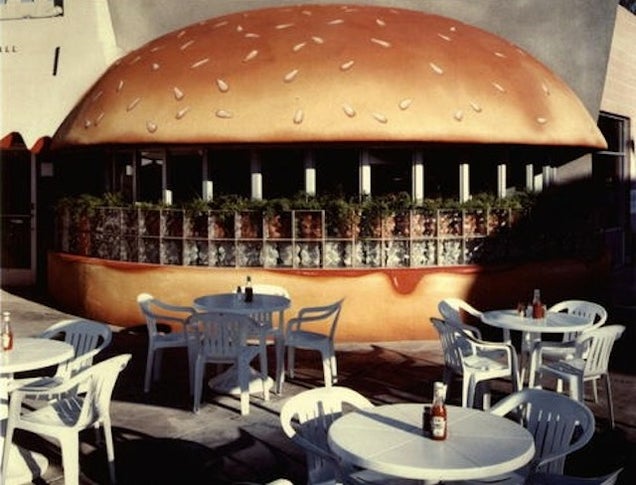 In 1991 LA had a real hamburger building, but now a Starbucks stands there.
(via David Graham)
Bonus: The Mitchell Corn Palace in Mitchell, South Dakota, designed by Rapp & Rapp, completed in 1921. The dome and minarets were added in 1937.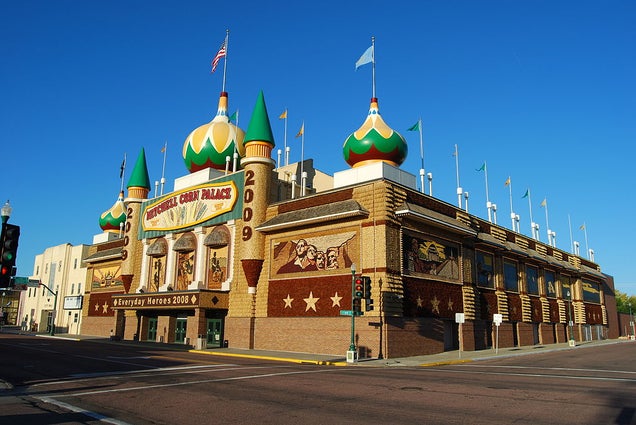 S
The murals and forms covering the building and some interior walls are made from corn and other grains.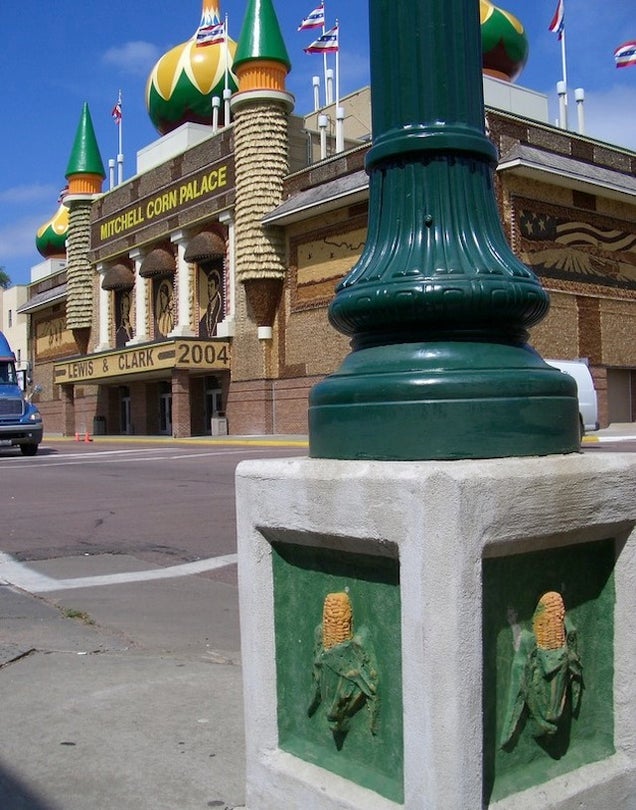 (via Wikimedia Commons 1 – 2)