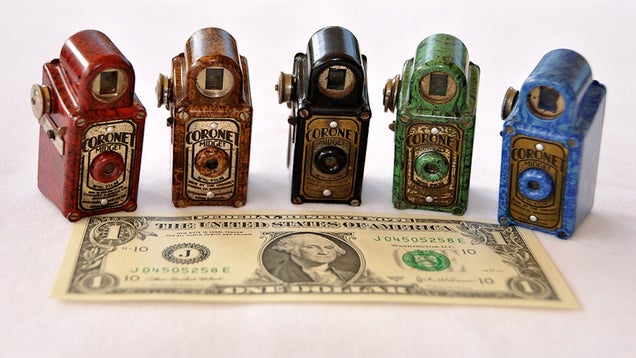 S
We've introduced you some of the oddest vintage cameras before, but what if you're in the market for something smaller, perhaps something that could be hidden in a pocket or a cigarette box? Here are some of the great spy cams ever sneak a photograph.
Up top is the Bakelite Coronet Midget box camera with a Taylor-Hobson f10 lens and a 1/30s fixed-speed shutter, introduced in 1935, and produced until 1943.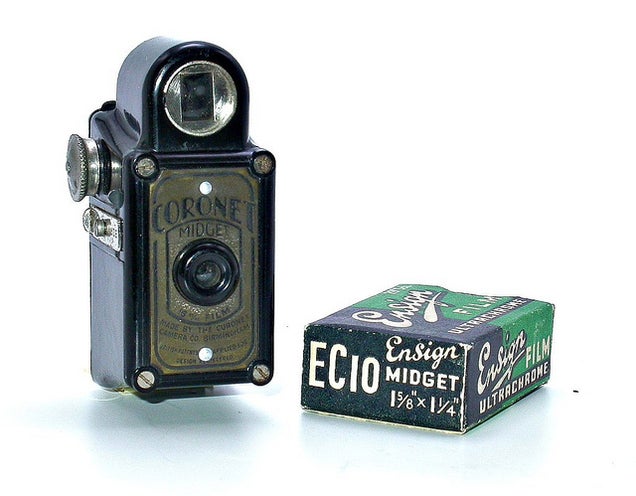 The ultra-cheap, lightweight and matchbox-sized Midget took six exposures on 16mm rollfilm, and was available in several colours. It was distributed as a prize in cereal boxes.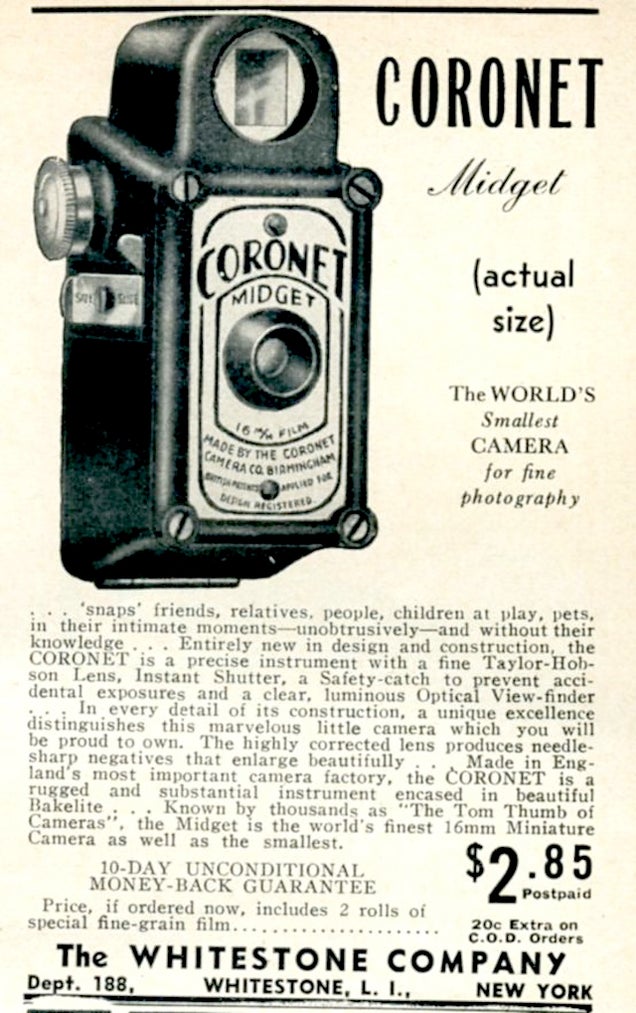 (via Coleccionando Camaras, John Nuttall and Jussi)
The Kombi, made by Alfred C. Kemper in Chicago, Illinois, from 1892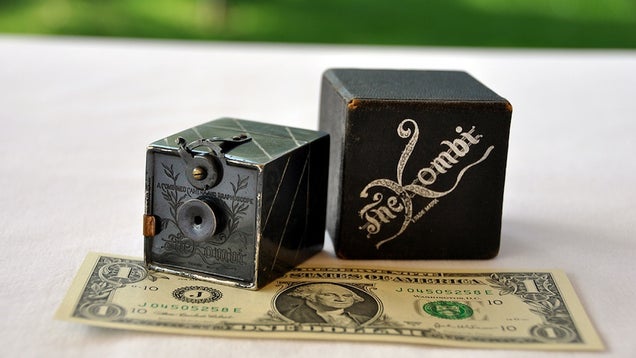 S
The first non-Kodak roll film camera for which Kodak produced its own type of film, this machine has the cutest user's manual ever.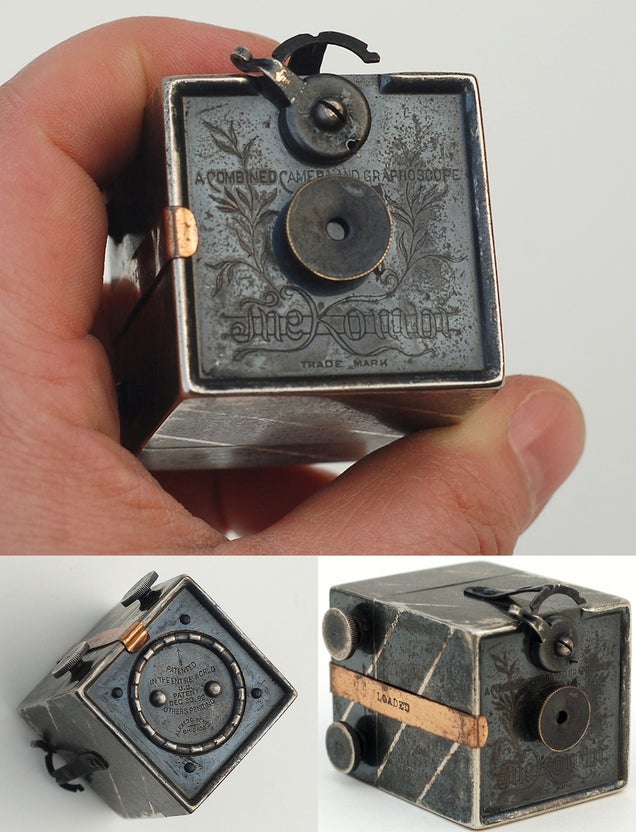 S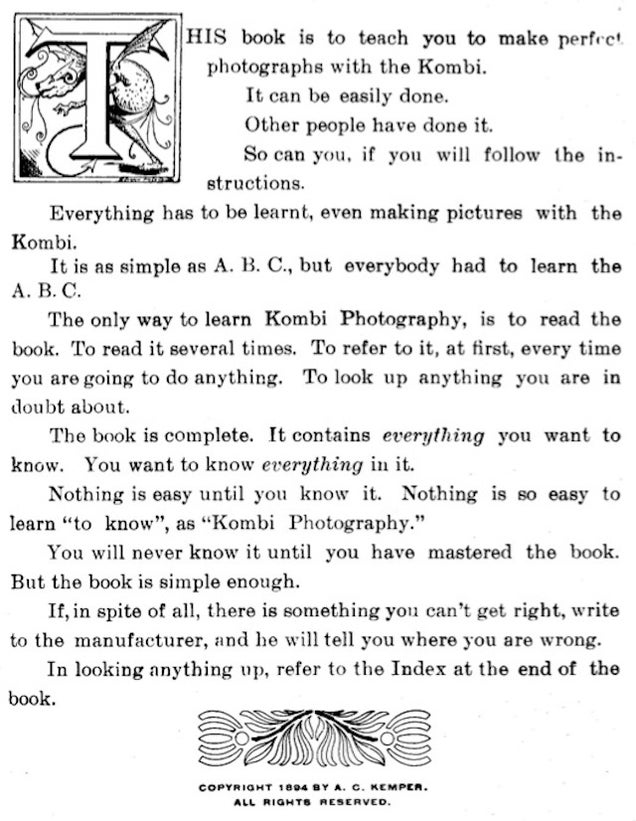 (via Coleccionando Cameras, Kombi Manual, 1895 and John Kratz 1 - 2 - 3)
Ticka Watch Camera, produced between 1906 and 1914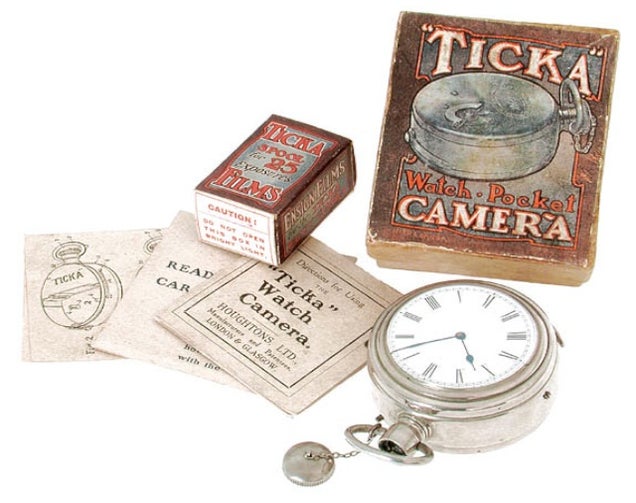 The most popular tiny watch-type camera was made by Houghton in England between 1906 and 1914, designed by Magnus Neill and sold in 10,000 units. It used 17.5 mm roll film and could take 25 16x22 mm images.
S
(via vintagephoto and submin)
Ensign Midget, designed by the Swedish Magnus Neill, produced by the British Houghton-Butcher from 1934 to 1941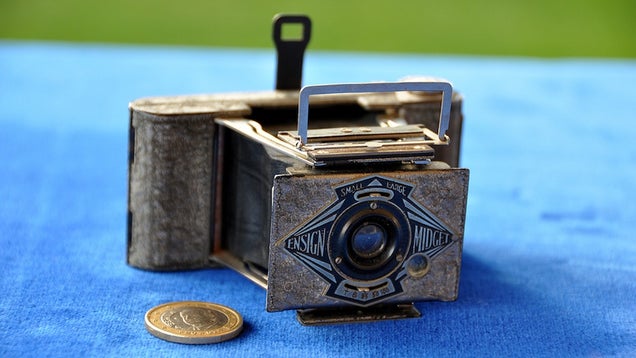 S
The original models had a three-speed shutter and a fixed focus lens with two apertures or an Ensar-Anastigmat lens with five stops.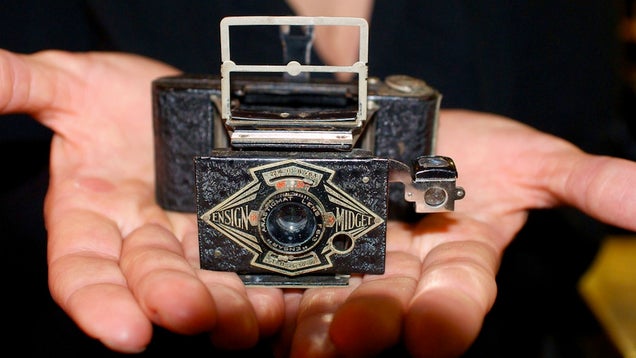 S
(via Camerapedia and Coleccionando Camaras and James)
The Lumiere Eljy with a Lypar 40mm f3.5 lens, 1937-1947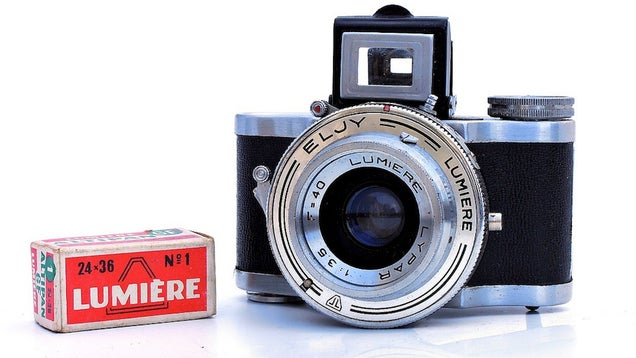 S
These tiny cameras (8x5 cm or 3.15x1.97 in) used a special 24x36 film and could take eight photographs on a roll.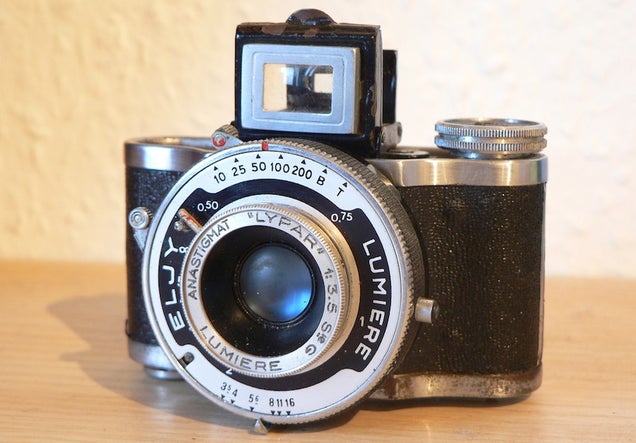 S
(via Herbert and John Nuttall)
Compass Camera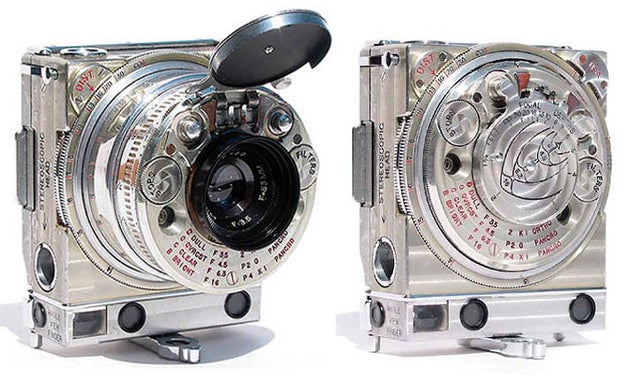 S
This camera was manufactured by the Swiss Le Coultre et Cie for Compass Cameras Ltd., London, between March 1937 and 1941. The solid aluminum camera used special 8-exposure films, but later a 828 roll film back was available. The Compass had two optical viewfinders, three filters, an extinction meter, a spirit level, and a 35/f3.5 Kern anastigmat lens.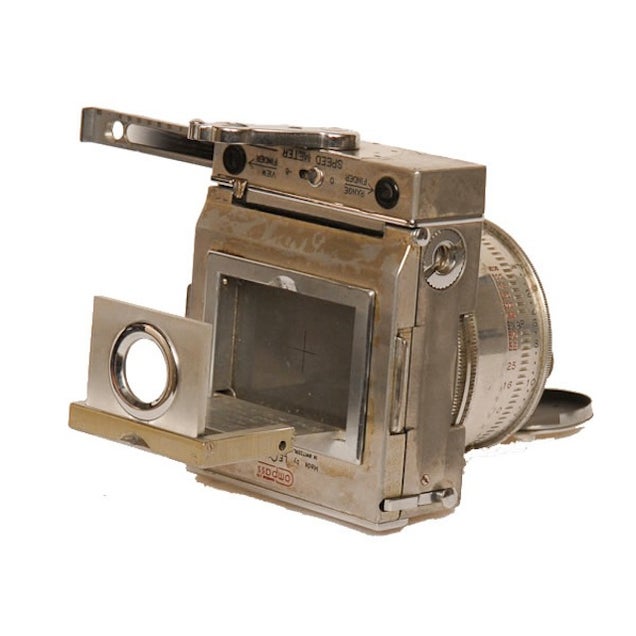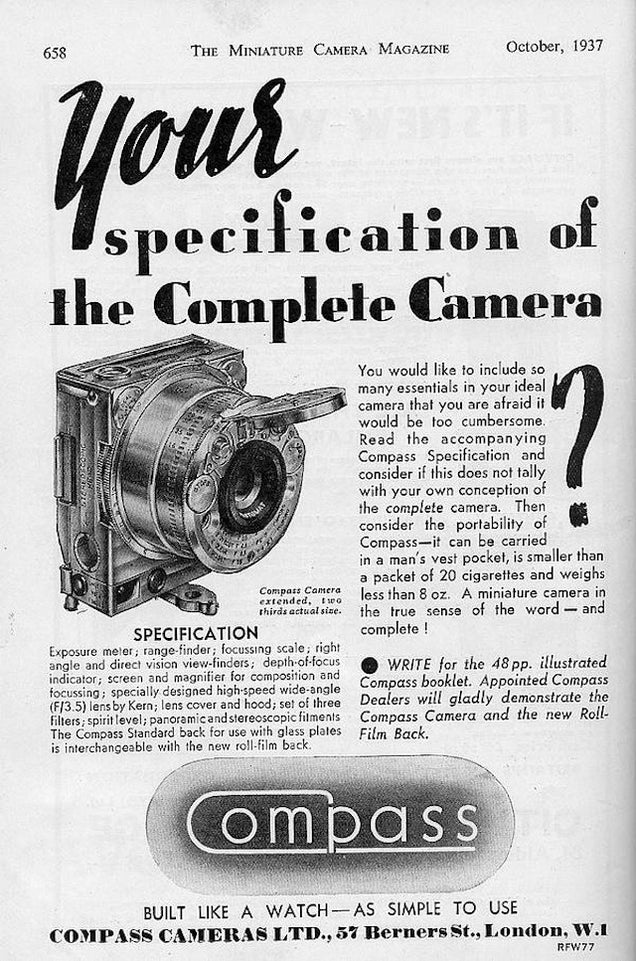 (via espvisuals and Camera Heritage Museum)
Minox A, produced in Riga, Latvia between 1937 and 1943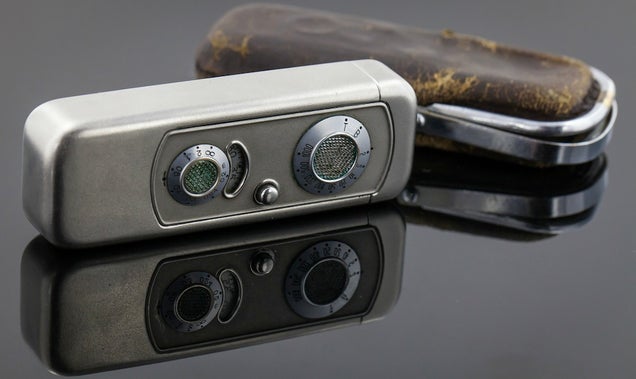 S

S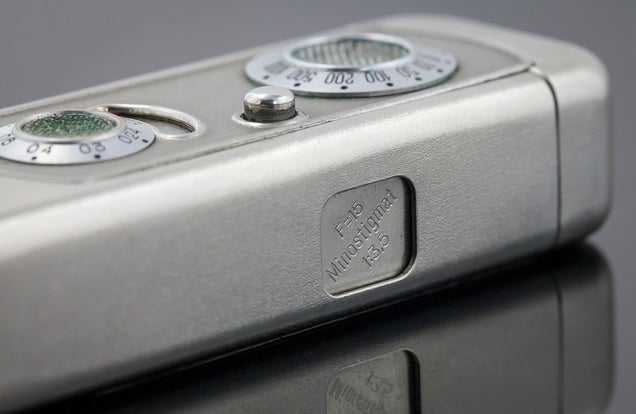 S
(via eBay)
The highly popular Whittaker Micro 16, made by Wm. R. Whittaker Ltd. in Hollywood, Los Angeles, California between 1946 and 1950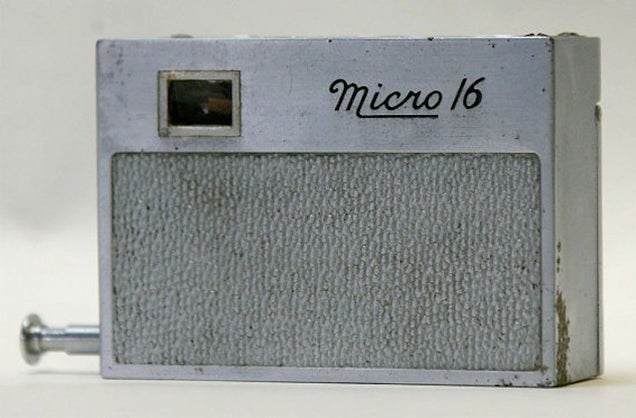 The Micro 16 used 16 mm film and had a 90-degree (reflecting type) viewfinder. It was sold for $30 in the late 1940s (about $300 in 2013 dollars). Detectives loved this model; some tried it to hide in an empty cigarette box.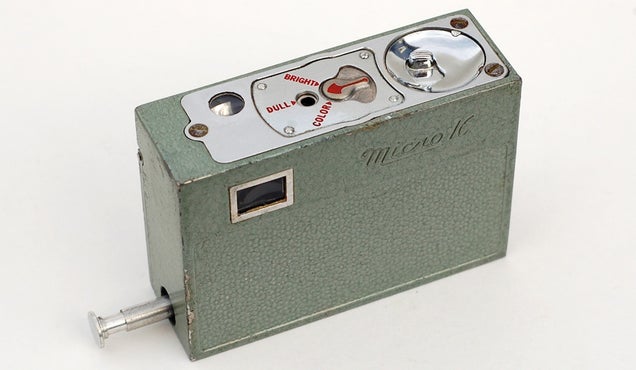 S
(via Camerapedia and John Kratz)
Steineck ABC Wristwatch Camera with a 12.5 mm f2.5 lens and a 1/125 s fixed-speed shutter, produced by Steineck Kamerawerke in Germany, between 1948 and 1951.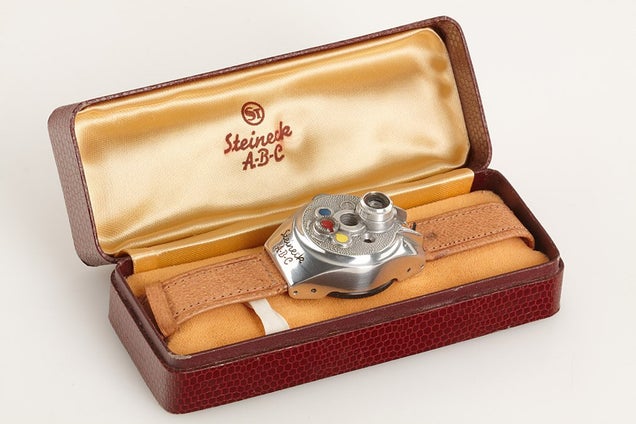 S
Patented by Dr. Rudolph Steineck.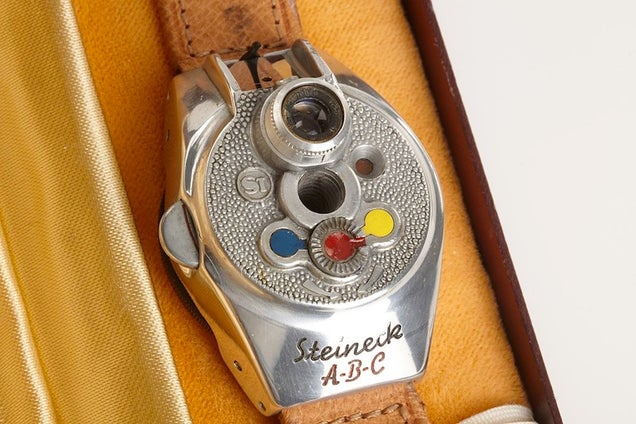 S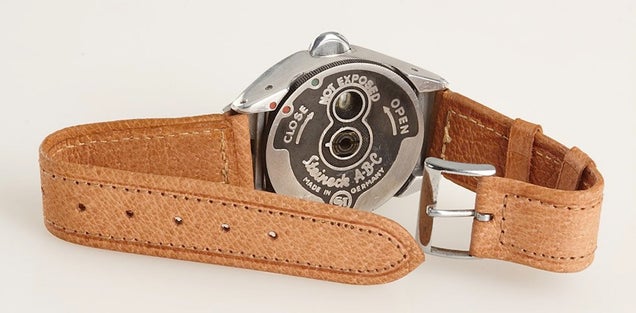 S
(via Liveauctioneers)
The first successful Japanese 16 mm camera, the Steky III, produced from 1950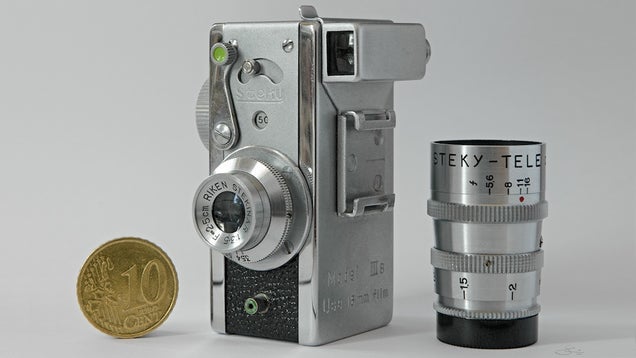 S
The small camera had interchangeable lenses: a three-element 25 mm f3.5 lens was attached originally, but the user could change it to a 40mm f5.6 or a 40mm f3.2, too. A 17mm wide-angle converter, some color filters, a USB filter, a pocket tripod, and a flash gun was available, too.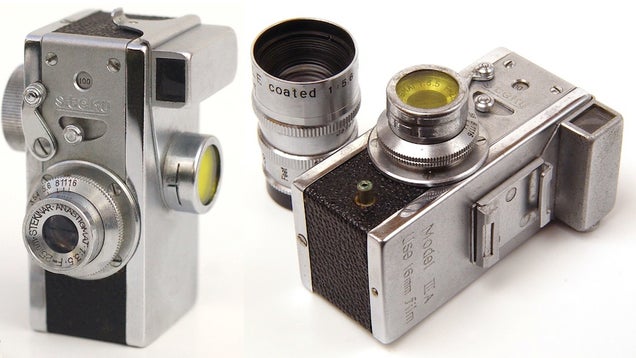 S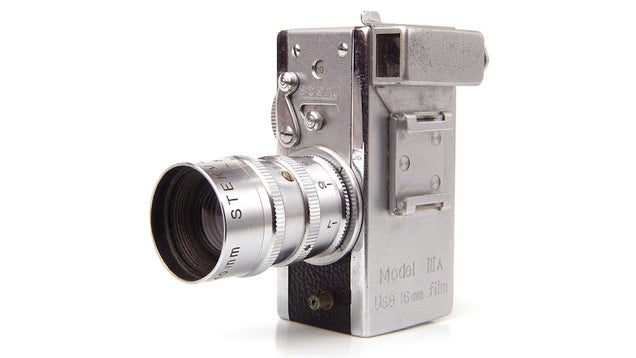 S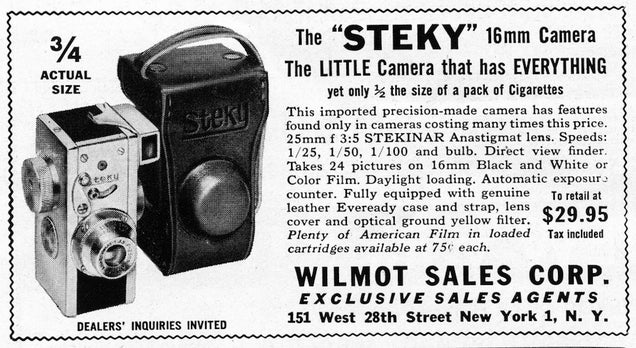 S
(via John Kratz, Martin Taylor 1 - 2, Subhash and Camera Wiki)
Echo 8 Lighter Camera with an Echor Anastigmat 15mm f3.5 lens by Suzuki Optical Company, Japan, 1951-1956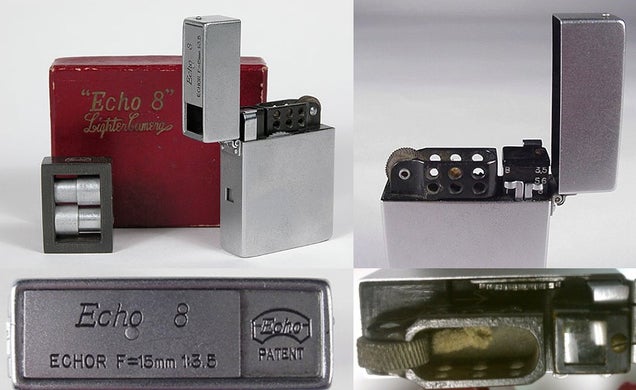 S
This lighter camera takes 20 photos on an 8 inch load of 8mm film. The aperture can be set to f3.5, f5.6 and f8.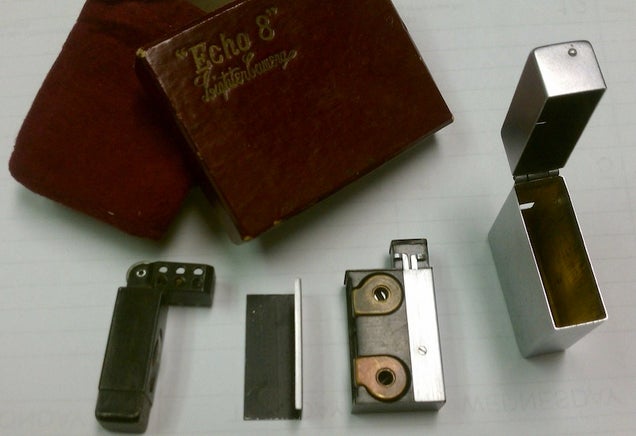 S
(via Vintage Photo and eBay)
The Austrian Goerz Minicord from the 1951-1958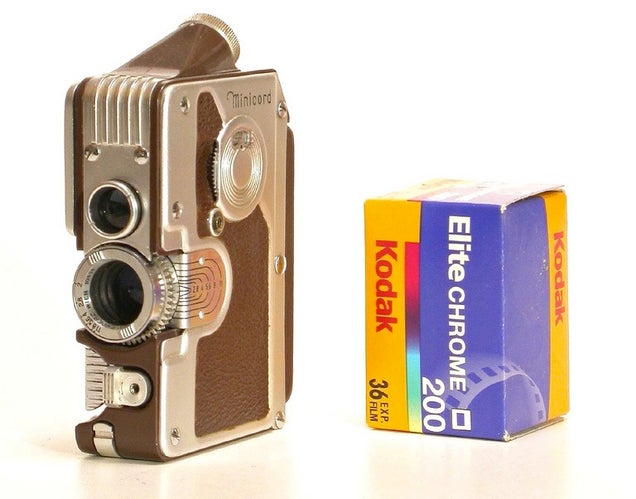 S
This has the best subminiature lens ever made: a six-element 25mm f2.0 Goerz Helgor that could focus down to 12 inches (30 cm). The camera used double-perforated film in special cassettes.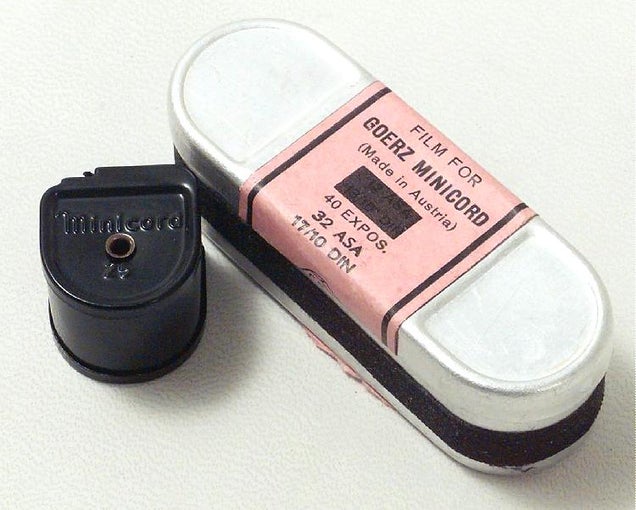 S
(via John Nuttall and Pacific Rim Camera)
Petie Vanity from the 1950s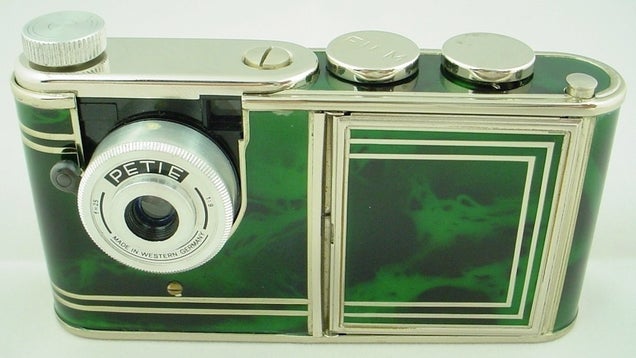 S
A Petie I or II camera was housed inside a lady's powder case. It was available in some shiny colors, with golden engravings, snake skin leather, or marble-like textures.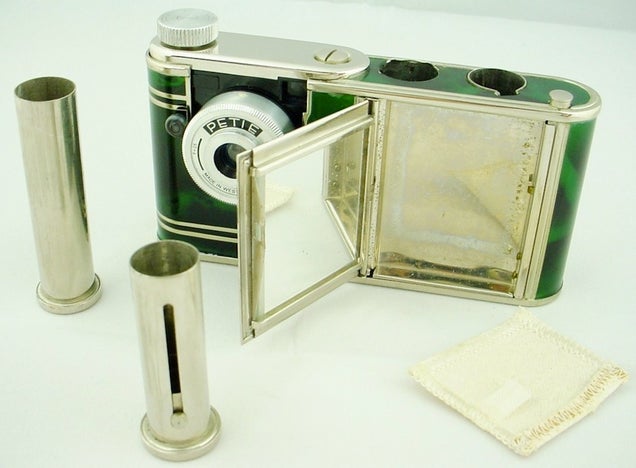 S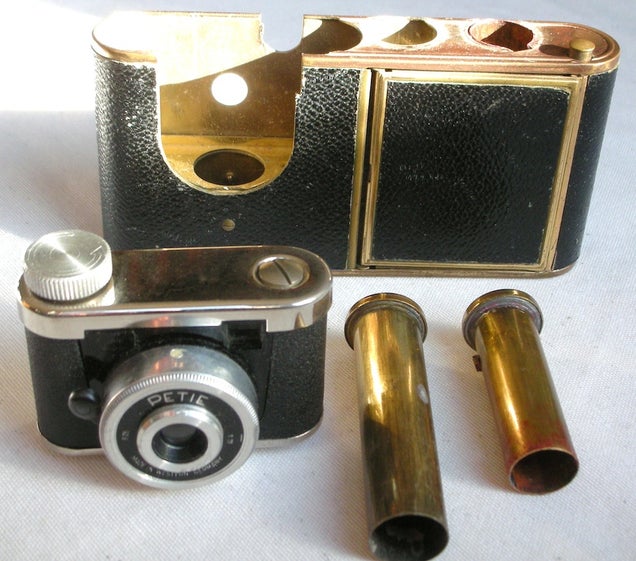 S
(via eBay and Joops Camera Collection)
Petietux with Kratz Optik 25mm f2.8 from 1957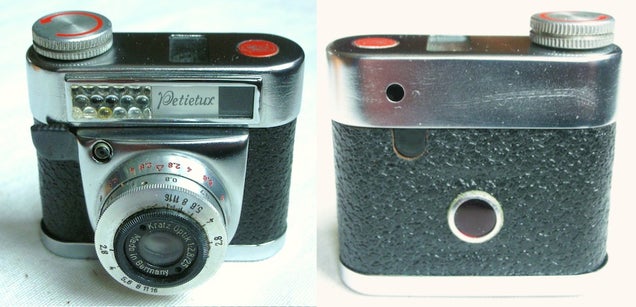 S
(via Joops Camera Collection)
Tessina, patented by Dr. Rudolph Steineck, manufactured by Siegrist between 1957 and 1996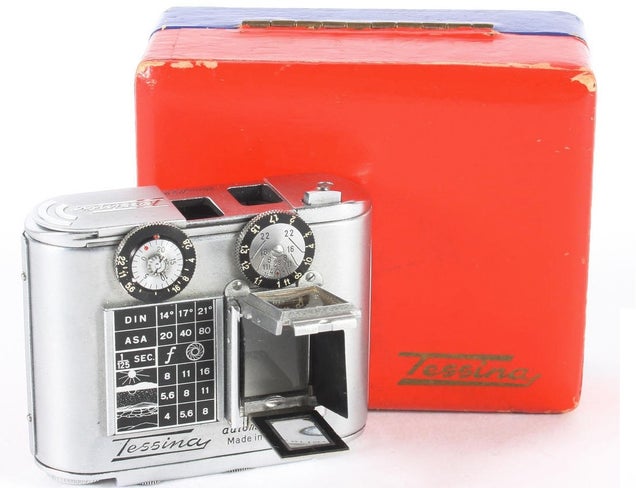 S
This twin lens reflex camera with two 25mm f2.8 Tessinon lenses could take 14x21 mm pictures on a standard 35mm film loaded into a special cassette.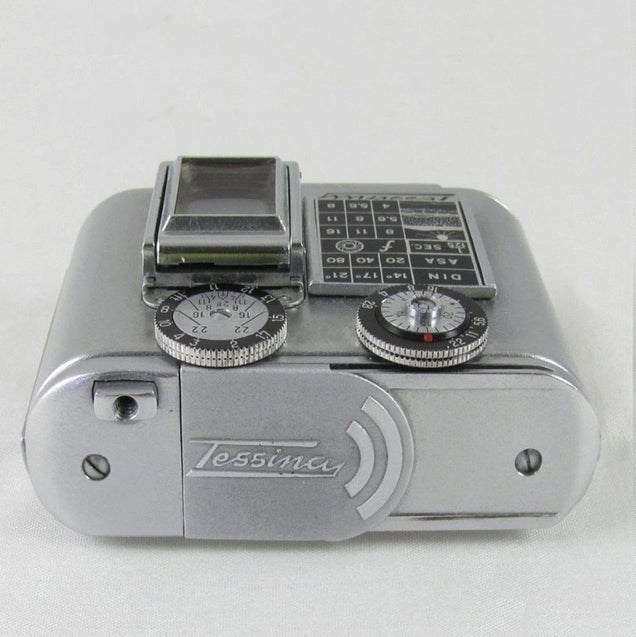 S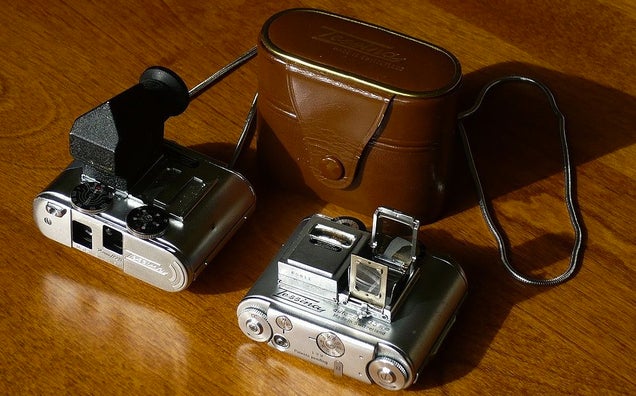 S

S
(via Pacific Rim Camera, Bonhams Auctions, eBay and Gisling 1 - 2)
MEC 16 SB, a 16 mm camera, designed by A. Armbruster, launched in 1957 by Feinwerke Technik Gmbh in Germany.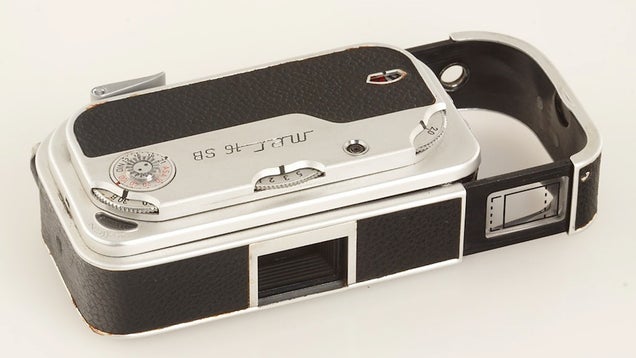 S
The 16 SB had a Rodenstock-Heligon 1:2/22mm lens, and it was the first camera with a built-in exposure meter (TTL).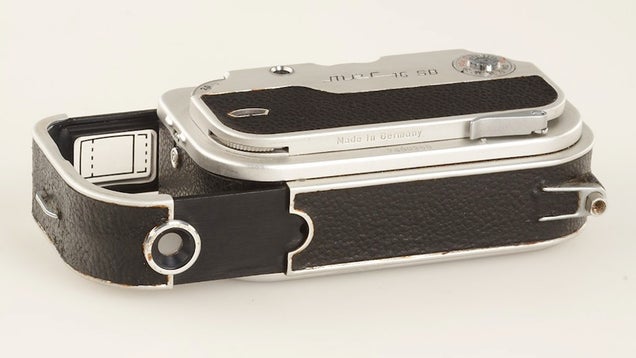 S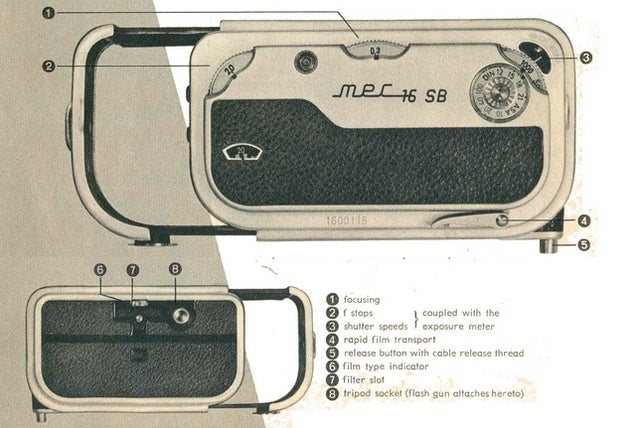 (via Original Camera Manual on Submin)
The Button Camera, developed by the Central Intelligence Agency in the 1950s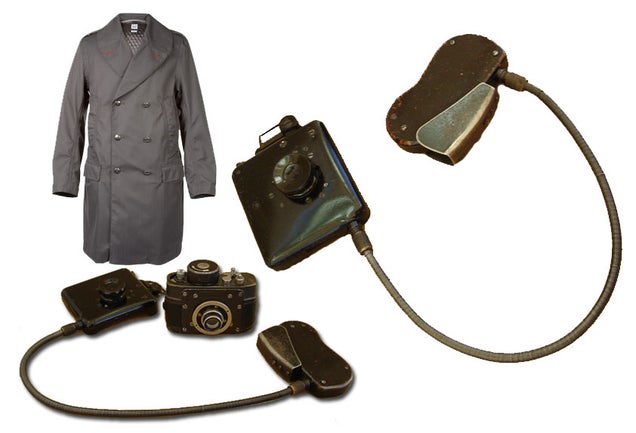 S
Similar ones were developed by the KGB as well as British Intelligence, but all of them took 16 mm subminiature film and employed a hidden pocket lever.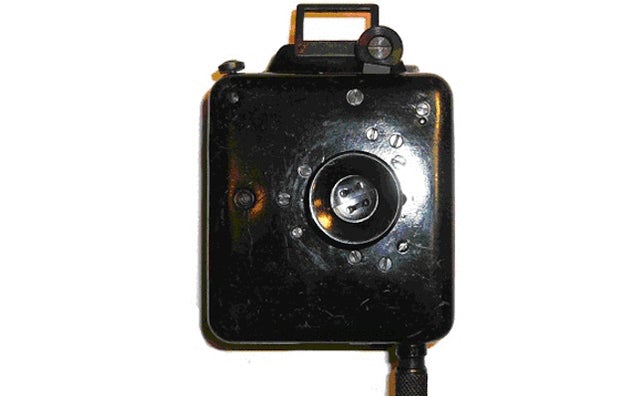 This is the Stasi (East German)version: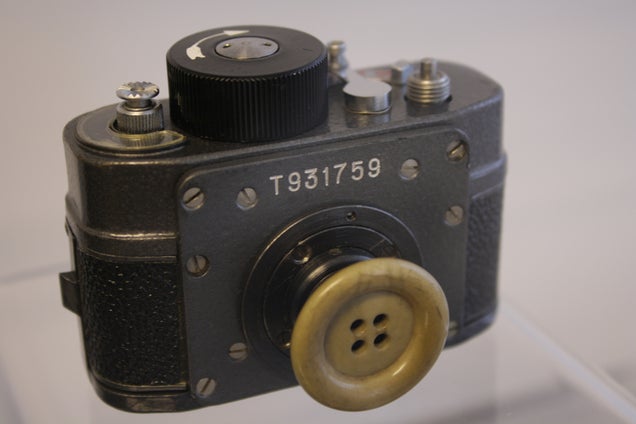 S
Japanese miniature cameras: Mycro, Midget, Myracle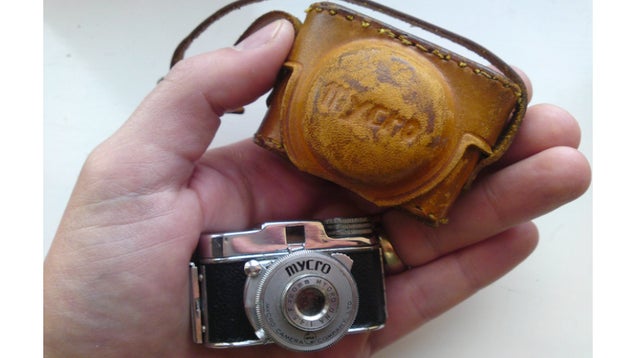 S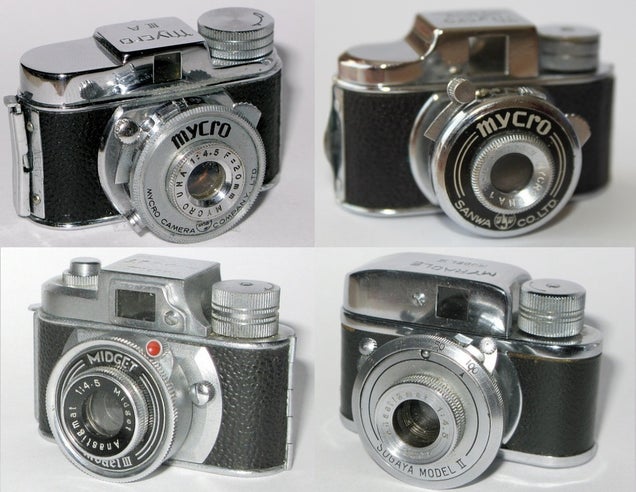 S
(via Steve Chatfield and Dan Pope)
Kiev Vega 2 with Industar-M 3.5/23mm lens, 1961-1964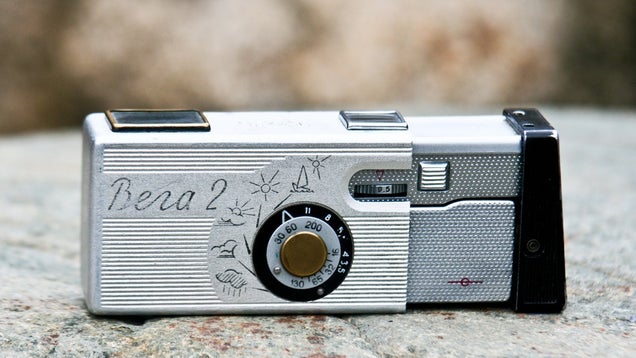 S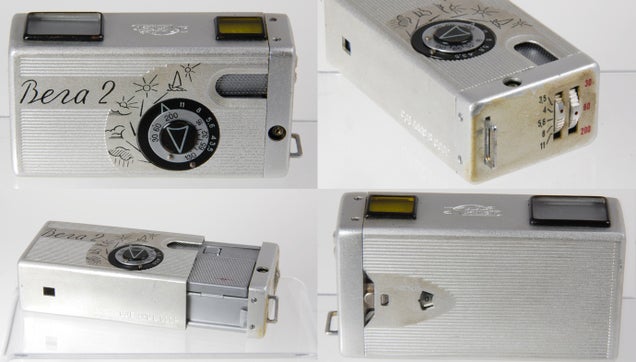 S
(via old_cameras and USSR Photo)
Minox DSC subminiature digital camera, announced in 2008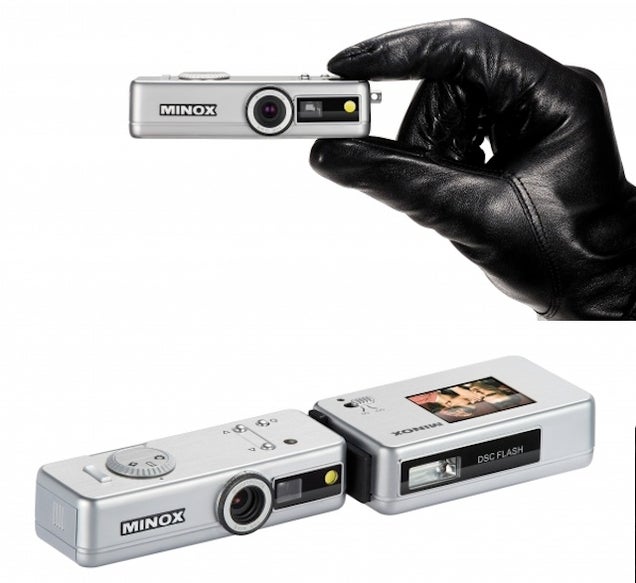 The DSC (Digital Spy Cam) with a 5.1 megapixel sensor could capture documents in the close focus range of up to 50 cm. An external flash module with a 1.5-inch screen can be docked onto the side.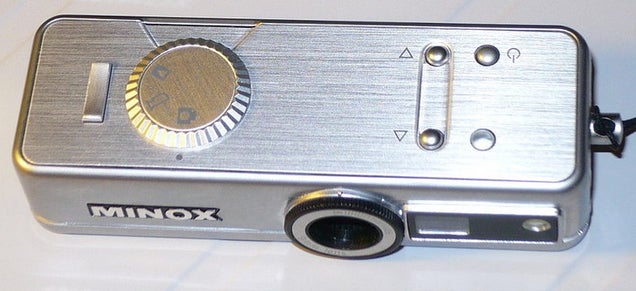 S
(via Minox Online Shop and Wikimedia Commons)